Earlier this summer I was privileged to be the closing keynote speaker at the UTM Convention, sponsored by the Association for Unmanned Vehicle Systems International's Silicon Valley chapter. The convention took place at the NASA Ames Research Center in California, and focused on the unmanned-vehicle traffic management (UTM) aspect of drones.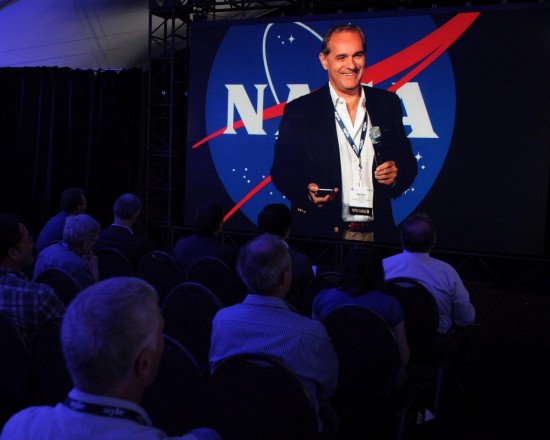 You might be thinking, "Cisco is a networking company, why would you be involved in a drone conference?" Well, drones have to be connected, and that's what Cisco does. They transmit massive amounts of data that must be collected, sorted, and analyzed. This is exactly where Cisco should be playing.
Drones are a nascent part of the Internet of Everything (IoE)—the intelligent connection of people, process, data, and things to create new value and opportunities. IoE represents the next wave of the Internet, and will impact virtually every part of our lives. Today, however, the use of drones is limited because the technology has far outstripped policy. Realtors may use drones to take aerial photos and videos of property for sale, and there is starting to be some use of drones for search-and-rescue missions. But on the other hand, unauthorized drones have gotten in the way of aircraft fighting fires in the western United States this year, and the City of San Jose's police department has yet to deploy the drone it acquired nearly a year ago because of lack of clear guidelines for its proper operation. That is why the traffic management discussions at the UTM Convention were so critical.
Once an appropriate regulatory framework is in place to ensure safety, security, and privacy, drones will become a fast-growing part of the things segment of IoE that will spur innovations in how people connect, revolutionize processes in unimagined ways, and change where and how data is collected, analyzed, and used.
Here's just one example of where Cisco and drones could come together in a "sweet spot" of innovation: Much has been said about smart vehicles connected to an intelligent transportation infrastructure in urban environments, enabling better traffic management and improving safety. However, when you go to a rural environment where cell phone towers and Wi-Fi access points are few and far between, the challenges are much greater. In this case, a drone can actually become part of the communication infrastructure to augment roadside connectivity. If it has intelligence, strong data processing, and analytics capabilities, a drone can perform many of the same services as an urban smart infrastructure—reporting emergencies, road hazards, and traffic problems to improve road efficiency and safety.
I believe Cisco will have a strong role to play, along with an ecosystem of partners, as this new element in Internet of Everything finds its place in society. What do you think? Where can Cisco make the greatest contribution to the intelligent development and deployment of drone technology?