Can you feel the rumbling? Once firm ground now feels shaky. And that rushing sound you hear is the avalanche of data that threatens to bury businesses that aren't prepared. Research firm IDC estimates that by 2020, the amount of digital information will explode to 40,000 Exabytes or 40 trillion GB (more than 5,200 GB for every man, woman, and child according to EMC). And while natural avalanches end quickly, it's clear that the data avalanche is gaining momentum.
This data deluge has significant ramifications for companies and public sector organizations that are seeking answers to questions such as: How do you create insightful information from immense amounts of data? How much of your limited IT budget should you spend on Big Data solutions to protect your competitive position? What innovations are possible from new insights? How can these innovations transform your business?
By helping customers address these questions, Big Data has become big business. Companies that have helped companies gather, store, and turn data into usable information have generated billions of dollars (and growing) in business value. A.T. Kearney forecasts global spending on Big Data hardware, software and services will grow at a CAGR of 30% through 2018 – reaching a total market size of $114B.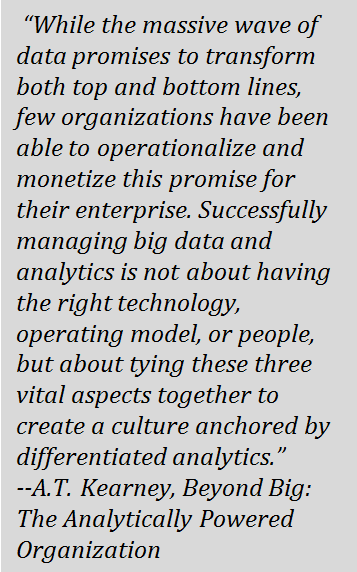 But, Big Data is nothing without big judgment. The quote from A.T. Kearney's report explains this well. "While the massive wave of data promises to transform both top and bottom lines, few organizations have been able to operationalize and monetize this promise for their enterprise."
The quote continues: "Successfully managing big data requires tying together the right technology, operating model, and people." This is where the Internet of Everything (IoE) comes in. With IoE connecting people, process, data, and things, we believe the potential value from Big Data will grow even faster as companies capture a greater share of the $19 trillion in IoE value that will be created over the next decade.
In addition to the projected 50 billion devices that will be connected to the Internet by 2020, the concept of "lighting up dark assets" gives us confidence in our prediction. Dark assets are things, that when connected generate data that can be analyzed to provide new insights that business can use to improve their processes and help people do their jobs better. The end result is greater business value from new revenue sources, lower costs, and greater efficiencies.
For example, one of the world's largest retailers is using IoE and Big Data to optimize checkouts. Video cameras provide data about line length and time in the queue. Analytics software presents this information as useful insights so that store managers can make staffing decisions in real time. With Cisco's Fast Retail solution, the retailer can save $50-70,000 a year for each large store. They can also reassign 2-3 full time employees to other tasks and customers can benefit from a 50% plus reduction in average wait times, helping to improve their perception of the retailer.
This example highlights the power of Big Data when combined with IoE. Companies from manufacturers that want to streamline production, reduce time-to-market, and increase product quality; to financial services firms seeking to upsell clients can leverage insights to improve their business outcomes.
Click on these links to not just survive, but thrive from IoE and Big Data.