So now the countdown begins to name the winners of our second annual Cisco Innovation Grand Challenge at IoTWF.
Today we unveil the six finalists selected by Cisco judges after a highly complex evaluation process, which started six months ago with 3,000 entries from more than 100 countries. I am calling these next-generation innovators, the Super Six.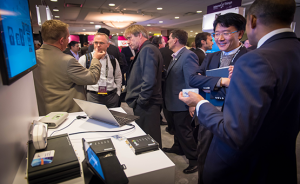 The Super Six finalists are vying for three coveted spots in the ultimate winner's circle at the IoT World Forum in Dubai on Dec. 8. In the weeks running up to the 2015 finals, all eyes will be on these ingenious entrepreneurs and startups. Their solutions are pushing the boundaries of what's possible to improve the world around us through the power of the Internet of Things (IoT).
I can't imagine how difficult it was for judges to select the Super Six from 15 semi-finalists, all of whom I previously stated are among the world's most impactful industrial IoT disruptors. Our finalists ultimately represent the "cream of the cream" of emerging innovators in our new digital era, where everything and everyone is linked with processes, data and analytics through the unifying power of the Internet.
The Super Six represent a broad cross section of geographies, vertical markets and IoT-based solutions. They are based in Canada, Finland, Germany and the United States. Their solutions address some of society's and industry's most serious challenges, including cyber security, energy resources, manufacturing efficiency, equipment maintenance, air pollution and environmental sustainability.
I think their solutions are stunning in their industrial and social awareness. Plus, their solutions leverage today's universe of advanced technologies that encompass everything from sensors, low-power memory, fog computing, platforms, analytics and artificial intelligence.
The common denominator is their interdependence on networked connections to the Internet. To me, as the organizer of this Grand Challenge, these innovators are incredibly inspiring in how they combine sheer creativity with the technical skills of our digital era. It's such an honor to recognize our IoT World Forum's Super Six finalists: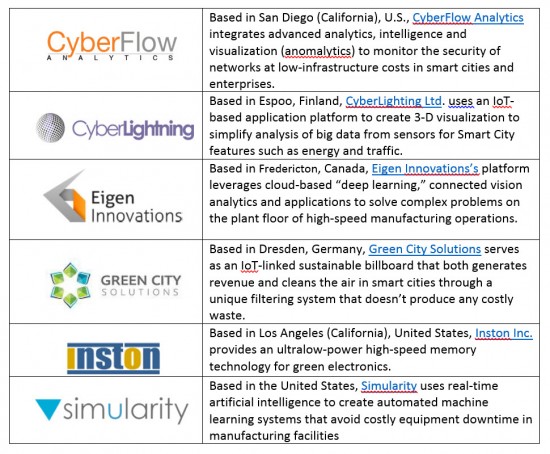 Inspiring, innovative, impactful – just like last year's first-prize winner of the 2014 Innovation Grand Challenge, relayr, whose story since then provides plenty of incentive for this year's finalists. Since capturing the top prize just 12 months ago, relayr's star has continued to rise in an expanding constellation of partners, customers and investors.
We're thrilled that our strategic investment and mentorship in relayr will help to fuel the expansion of its IoT starter kit and platform for software developers into new markets, such as the United States. At the same time, this kind of strategic portfolio investment keeps Cisco at the forefront of IoT innovation.
And just recently, the Berlin-based startup announced that it had closed a Series-A financing round of more than $11 million with funding from Cisco® Investments, Kleiner Perkins Caulfield & Byers and Munich Venture Partners.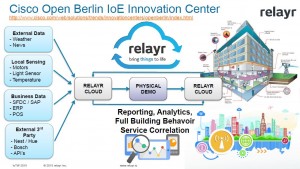 In fact, our relationship with relayr has deepened to the extent that Cisco is utilizing its technology solution throughout our openBerlin Innovation Center, which we opened this past September as the latest of our nine global Innovation Centers worldwide. At openBerlin, relayr deployed its cloud-based platform, 2,000 sensors and other IoT devices that have transformed the brick facility into a smart building infrastructure management system. The multiprotocol platform aggregates and connects environmental conditions such as light, temperature, air quality and movement, automatically triggering adjustments for each building service. Lights brighten or dim, heating goes up or down, oxygen levels adjust to air quality – all automatically depending on conditions.
Relayr's founder, Jackson Bond, told me his start up has "launched like a rocket" since winning the Grand Challenge last year, and he offered these words to this year's finalists: "Just try to win it! But even if you don't win, you made it this far already, and there are huge opportunities within the Cisco community. Network like crazy, and add value to Cisco, who in turn will add value back to you."
With this kind of enthusiasm and market traction from last year's winner, I can't wait to get to know this year's Super Six finalists in Dubai, where they will travel make their Shark Tank-like pitches in front of a live audience before the judges. The three winners will be announced at the closing ceremony of the IoTWF. The winners will walk away with a total of $250,000 in awards: $150,000 for first place, $75,000 for second and $25,000 for third place.
Even more important than the cash prizes though, the three winning trailblazers of the Innovation Grand Challenge will have VIP access to industry, investment and business experts. This includes Cisco's Innovation Centers and Cisco Investments team for potential business acceleration and joint go-to-market strategies.
All this will help to turbo-charge their ventures and the IoT/IoE opportunity, just as it has done for entrepreneurs, startups and developers such as relayr in prior IoT World Forum Innovation Grand Challenges.
I wish the Super Six grand success in the Challenge. To me, you're all winners. See you in Dubai!