Co-Authored by: Shaun Kirby, CTO, Cisco Consulting Services
The IoE promises to revolutionize industries by providing access to a wealth of previously hidden information obtained from a myriad of new connected sensors fused intelligently by novel real-time analytics. Retailers have seen early success by connecting dark assets in stores, warehouses and other venues. This week at the Retail's Big Show by the National Retail Foundation, Cisco shared specific stories about cutting edge IoE use cases in retail operations, , along with the release of a comprehensive, three-pronged research study on IoE in retail.
With advances in IoE, we're able to optimize employee productivity for processes such as checkout and on-shelf availability by tapping previously inaccessible sources of information to make more accurate predictions further into the future than before.
1. Retailers can make more accurate predictions of checkout demand, further into the future. Tracking the density of shoppers in key areas such as grocery and frozen goods, the rate at which milk is leaving the shelf, and the precise path of shopping carts, baskets, and mobile devices through a store gives more visibility than just looking at store traffic and queue statistics.
2. Avoid stock-outs with better re-stock timing predictions. With a high-speed PTZ camera zooming in on an array of commodity mirrors, we can cost-effectively obtain accurate, real-time views of shelf condition, greatly improving the ability to predict when items need to be re-stocked.
The top and bottom line value proposition of these improvements alone can be several hundreds of millions of dollars each year for a large retailer, and IoE offers much more for other use cases across the value chain as well.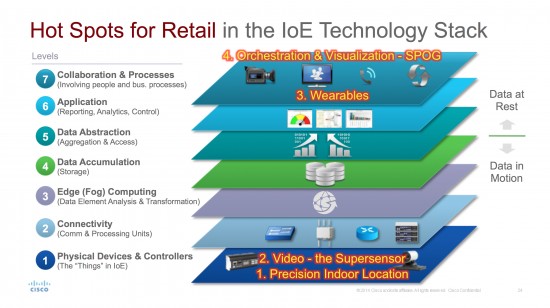 In 2015 we also foresee some exciting advances in technologies across the IoE technology stack.
• Precision indoor location will take us from analytics at the zone level to the aisle level within stores through Cisco's new angle-of-arrival technology based Wi-Fi store-wide. Supplemented by beacons and sensor fusion for key focus areas, location aware experiences are poised for transformation.
• Computer vision and video analytics are crossing new frontiers, with advances in both hardware and software making video the "super-sensor" – a powerful, cost-effective, extensible technology that can be applied to numerous retail use cases from merchandising to loss prevention to operational efficiency.
• Wearables are also set to explode on the scene, providing perhaps the ultimate continuous channel user experience platform for retailers, essentially for free!
• Omnichannel management dashboards. Last but not least, we believe that a "single pane of glass" (SPOG) for retail that provides a unified, geo-spatially enabled view of all aspects of the business through a single, collaborative interface can give retailers a distinct advantage in realizing the full value of the IoE.
In our session, we also provided a glimpse of the future of some key innovations on the horizon in the retail IoE technology stack. Missed the conference? Contact us below to request a summary.