It has become a tradition. Every year, on the weekend before Cisco Live Europe, we organize a weekend of fun and APIs for our dear EMEAR customers and partners. Yes, you read it right… a weekend; two full days! And I know what you are thinking: "Who in their right mind would spend their weekend away from home, and get in a room to learn about Cisco APIs?" Well, apparently many of us.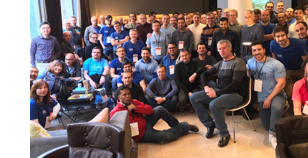 Every year this 2-day DevNet Express (DNE) event gets its 100 slots fully booked very quickly, becoming one of the best attended DNEs worldwide. Partners and customers across the region arrive a couple of days earlier to Cisco Live, so they can spend 48 hours with multiple Cisco speakers and proctors, getting started on programmability and the APIs for a specific architecture.
This year we will spend the weekend of January 25-26th in Barcelona, covering everything related to Meraki APIs. Attendees will have the opportunity to learn about all the required programming fundamentals with Python and how REST APIs work. Most importantly they will also understand how the APIs provided by Meraki's cloud-managed networking platform enable automation, management, and security. Our agenda will cover the most relevant Meraki integrations:
Dashboard API
Monitoring & analytics integrations
External captive portal
And while we are at it, we will have a lot of fun! There will be missions to accomplish, badges to earn… and some cool swag to reward attendees' success!
Don't miss the opportunity to attend this amazing event in the beautiful city of Barcelona. Register now and get ready to be amazed by the power of Meraki APIs!
Any questions or comments please let me know in the comments section below, Twitter or LinkedIn. Find my previous posts!
---
We'd love to hear what you think. Ask a question or leave a comment below.
And stay connected with Cisco DevNet on social!
Twitter @CiscoDevNet | Facebook | LinkedIn
Visit the new Developer Video Channel