There is no better venue than Strata + Hadoop 2016 to talk about digital transformation, big data and Hadoop.
Let me start with the Internet of Everything which represents a global market transition driven by a surge in connections among people, processes, data and things. The Internet of Things is focused on devices, but when you connect the unconnected, the Internet of Things becomes the Internet of Everything. It's important to understand when you bring something online it's not just connected to the Internet – it is connected to everything else. As these connections multiply, the result is exponential change, creating new revenue streams, better customer and social experiences, and new operational models that deliver ever-greater efficiency and value. By 2020,
world population will increase from 7.45 billion to 7.58 billion
those who have internet access will increase from 3.61 billion to 5.0 billion
number of connected devices will increase from 15 billion to 50 billion
global mobile IP traffic will increase from 50 exabytes to over 350 exabytes
the digital universe will grow from 15 zettabytes to 40 zettabytes
An example … Consider the Olympics, the largest sporting event in the world. The 31st Summer Olympics were recently held in Rio De Janeiro, Brazil. Thousands of athletes from more than two hundred nations participated and five billion people watched the games, that's more than two-thirds of the world's population, and a forty percent increase from 2012 London Olympics. Cisco partnered with NBC to provide the experience. It was the most connected event in history. The network provided by Cisco had over 100,000 ports and 5,000 WiFi access points connecting 15,000 athletes, 8,000 rooms at the Olympic Village alone, 25,000 media personnel, 70,000 volunteers, 85,000 law enforcement personnel, and over 3,000 officials on the ground behind the scenes. Do you see the exponential increase in the number of connections? During the games 54 million competition data feeds were transported and processed in real-time. Over 23 million network attacks were detected and blocked. 170,000 hours of online video content was uploaded, that's almost 20 years of continuous video watching. 130 million hours of online video were watched via mobile devices – the world is definitely going mobile. See the magnitude of the challenges and opportunities? The technology we implemented and the lessons we learned have broad applications to the world at large with digital transformation.
Challenges … This digital transformation is a disruption and it threatens organizations, public sector and private sector alike, it is a reality that cannot be ignored. As with all change, there is tremendous opportunity to create new value. Organizations that meet the challenge will drive their own disruption, but only if they fully embrace digital business transformation. Gartner estimates that by 2020, seventy five percent of businesses will be digital, or have digital business transformations underway. However, only thirty percent of those efforts will be successful, owing in part to a lack of specialized talent and technical expertise. All of this requires a fundamental rethinking of business and operational strategies as organizations adopt new models for agile information technology, edge analytics and platform-based security.
A digitally transformed organization is hyper-aware, predictive and agile – with dynamic processes enabling it to adapt and thrive in an environment of continual change. One of the primary drivers of digital transformation is sophisticated analytics with big data technologies. Big data is the engine that drives today's analytics. But, note that big bata has evolved to meet this need. It was originally focused on batch processing of offline data; now, it is the primary enabler of analytic engines running on streaming data in real-time. With digital transformation, data becomes the most valuable asset – you could even call it the lifeblood of the organization. Another important point to note is that these emerging analytics are not likely to replace traditional analytics but they coexist with and complement each other. Data from connected things: sensors, smart devices, mobile phones, connected automobiles and social networking, will be combined with traditional business transactional data and then analyzed in real-time. Collecting more data, and preparing for increasing growth in data, will be more critical than ever before.
So what is Cisco doing at Strata + Hadoop – a big data conference? … (This was one of the top questions that we heard
at the early Strata conferences. Not anymore, but let me address it once again). The answer is simple: Cisco is not just a leader in networking. In just a short span of seven years, Cisco's Unified Computing System (UCS) has grown into one of the top server platforms in the world adopted by over 52,000 unique customers.
With digitization, all the data will require two fundamental aspects: transport and processing. Cisco's long-time expertise is in networking and we are all over the transport problem, but we have done so much more. Cisco UCS is a fully integrated infrastructure bringing together computing, storage and networking to create one of the best performing systems in the world, demonstrated through more than 100 industry standard benchmark records, including several big data benchmark records.
Here are t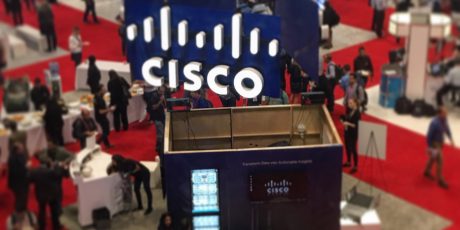 he top ten reasons for you to visit the Cisco booth at Strata + Hadoop 2016 by Rex Backman.
Our Solution Offers .. We introduced our big data solutions four years ago and have seen wide adoption across major industry verticals and have been endorsed by leading analysts like IDC and Forrester Research.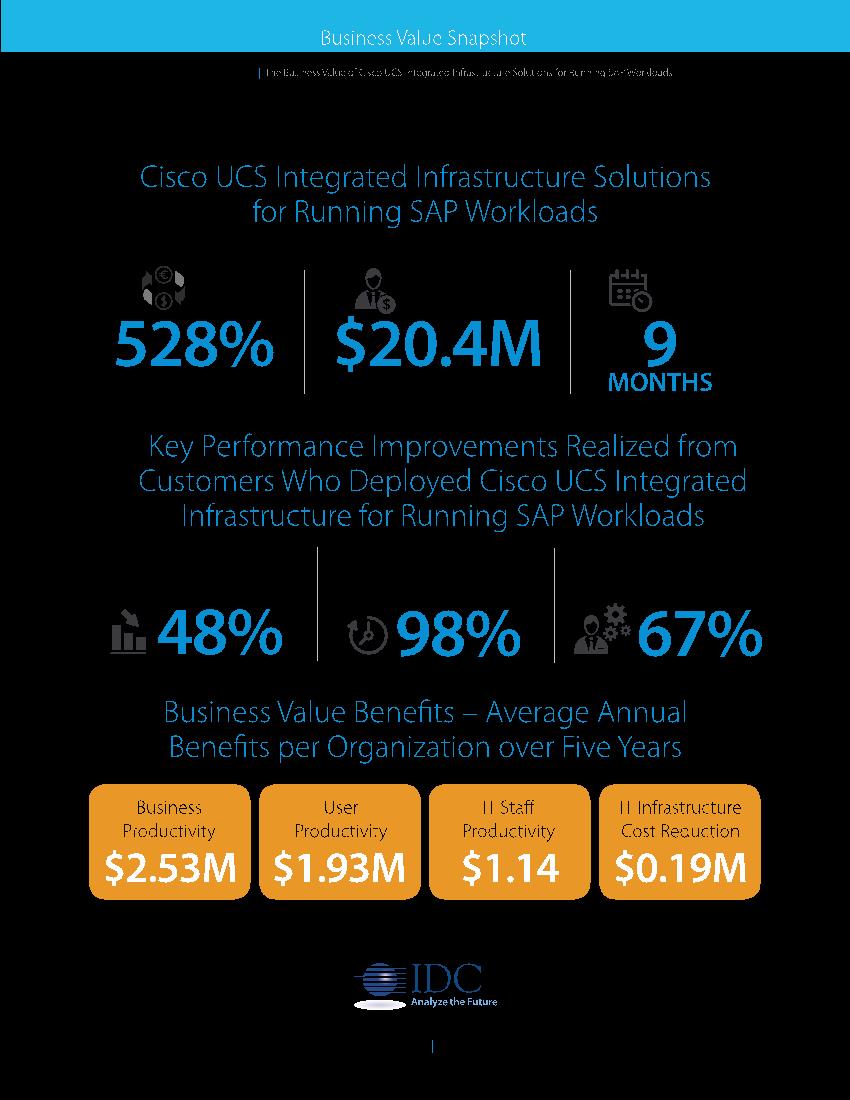 Big data systems have a lot of moving parts and a key differentiator for Cisco is the partnerships we have formed with leading big data software vendors. One of the reasons for our success: we made the complex architectures easy for our customers to implement by working closely with our partners using our validated designs and end-to-end automation tools.
These Cisco Validated Designs (CVD) employ a fully integrated infrastructure that can scale as business demands using a simplified centralized management approach allowing one to see the whole infrastructure as a single unit, dramatically reducing the complexity of provisioning, monitoring, troubleshooting and growing the system.
While our portfolio is much broader, let me describe our Hadoop solutions at a high level:
Data Lake and Data Hub – Hadoop has emerged as an integral part of enterprise data management driven by the cost of ownership and scalability advantages. We have created an array of Cisco Validated Designs with leading Hadoop software partners: Cloudera, Hortonworks, IBM and MapR.  These solutions have evolved inline with the advancement in the Hadoop ecosystem technologies such as support for tiered storage, SQL compliance, advanced automation and many more.
End-to-End Analytics – Internet of Things devices such as sensors, smart devices, mobile phones, social networking, and online transactions are all generating data at unprecedented scale. All of this data needs to be captured, monitored and processed in real-time. We're seeing this with systems that provide sentiment and exploratory analytics, as well as edge nodes issuing real-time alerts, often as part of a larger framework known as the Lambda Architecture. Our vision of the evolution of the Lambda Architecture combines both historical data, in Hadoop or traditional relational systems, and real-time streaming data under an end-to-end unified management plane.
Big Data meets Traditional – Hadoop and other big data technologies are not necessarily replacing traditional technologies but coexisting and complementing each other by the integration of traditional analytics with emerging datasets built on big data systems. One example is SAP HANA Vora, a new in-memory query engine which leverages and extends the Apache Spark execution framework to provide enriched interactive analytics on Hadoop data. Cisco and SAP have invested in a joint initiative – project Benjamin – a platform for joint innovation, testing and customer proof of concept.
Industry Vertical Solutions – Big data has been adopted across all major industry verticals. We have a broad range of expertise and a partner ecosystem to work with our customers to understand their businesses, challenges and opportunities, and to identify big data solutions appropriate to their needs. Some of the areas of focus include: finance, healthcare, media, manufacturing, retail, energy and utilities. Stay tuned.
Cisco is your partner in this journey towards a digital transformation. We can help you navigate through the disruption you're experiencing, by enabling you to be hyper-aware, predictive and agile in your operations, significantly reducing your time-to-value as you move from data to insights.