The 2019 Gartner Magic Quadrant for Hyperconverged Infrastructure (HCI) is out and I'm very excited to share that Cisco HyperFlex was named a leader for the second year in a row. This level of recognition validates the work our team has put into bringing to market a world-class HCI solution.
We launched HyperFlex with the goal of redefining the HCI market with a complete solution that filled the gaps left by other HCI vendors. While we continue to enhance the HyperFlex platform our #1 goal is to help IT leaders adopt HCI with confidence.
Foundational pillars to adopt HCI with confidence
We recognize the immense pressure that IT teams are under to bridge the gap between enabling innovation and maintaining reliable operations. Business leaders want new technologies that enhance customer experiences and improve the performance of business-critical workloads, but IT teams first and foremost need to mitigate risk to ensure business continuity. Migrating to new technology is a calculated risk, so IT teams need to have confidence in their infrastructure.
So, what does it take to instill confidence in a solution? Being named a Leader in the Magic Quadrant is a good starting point – but like any solid structure, it needs to be supported by more than a single pillar.  HyperFlex customers adopt HCI with confidence knowing their solution is supported by four foundational pillars.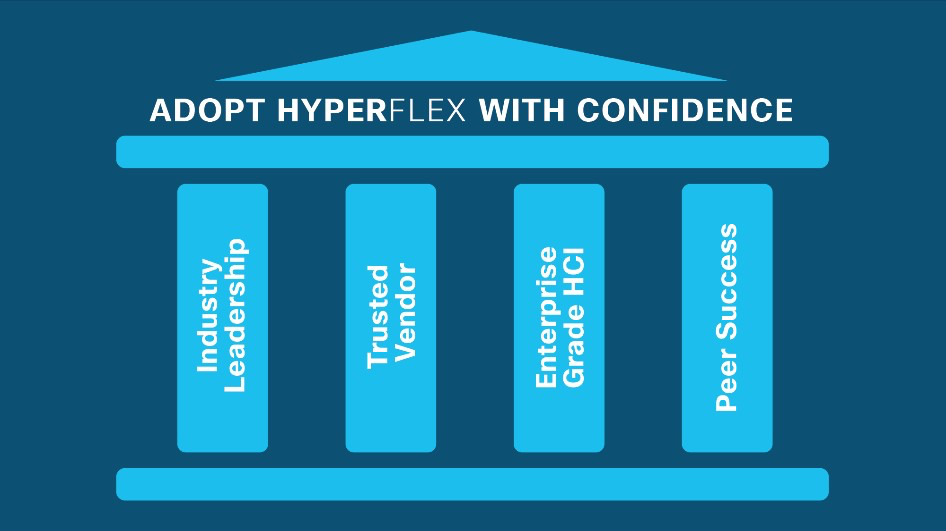 Pillar #1 – Confidence in an industry leader
Cisco HyperFlex continues to be positioned as a Leader in the Gartner Magic Quadrant for HCI for the second year in a row in 2019. The Magic Quadrant is renowned as an important resource for customers to understand specific technologies and identify leading vendors. We believe our recognition as a Magic Quadrant Leader in this report validates the capabilities of HyperFlex and Cisco's vision of how HyperFlex can help our customers solve challenges now and in the future.

Cisco HyperFlex was also named the overall winner in CRN's Product of the Year for Hyperconverged Infrastructure, further strengthening Cisco's market leadership position. CRN is a media source focused on solution providers, IT channel partners, and value-added resellers (VAR's), so this award directly reflects their confidence in HyperFlex's ability solve customer challenges.
It's also worth noting that Cisco SD-WAN took home the award of overall winner for software-defined networking, so organizations looking to deploy a software defended branch solution can utilize two award winning products in HyperFlex Edge and SD-WAN as an integrated solution seamlessly deployed remotely through Cisco Intersight.
Pillar #2 – Confidence in a Fortune 100 vendor
IT infrastructure is not only a long-term investment, it's the machine that keeps business running, so having confidence in an HCI vendor is an important consideration. Many emerging companies in the technology industry are financially unstable, with many burning cash in the name of acquiring new business. This introduces risk to their customers as they cannot be assured of the long term financial viability of these emerging IT vendors. Customers can trust that HyperFlex is guaranteed, and backed by Cisco, a financially stable and trusted brand with a proven 35-year history of success.
Pillar #3 – Confidence in an enterprise grade solution
HyperFlex is designed around four key principles to engineer an enterprise grade HCI solution.
Industry leading performance
Organizations considering HCI solutions need to have confidence that their infrastructure can support all of their workloads, not just some of them.  In today's digital economy, applications are not only crucial to employee productivity, they are also the face of your business to customers.  HyperFlex has proven to out perform competing HCI products in IOPS, latency, and throughput to ensure IT teams can rest easy and be confident that their applications will deliver an optimal experience.
Reliability backed by award winning support
IT teams are responsible for keeping the business going, and that starts with infrastructure that can be counted on to provide reliable operations without downtime to ensure business continuity.  HyperFlex is engineered as an end-to-end, single solution that fully integrates compute, storage and networking to deliver consistent and repeatable results. Customers deploying HyperFlex don't need to be concerned with matching hardware configurations based on hardware compatibility lists from their software vendors which reduces complexity and mitigates incompatibility risks that can affect overall reliability.
Additionally, HyperFlex is backed by Cisco's Global Technical Assistance Center (TAC), which provides 24/7 support around the world and is renowned for its consistently high level of customer responsiveness and satisfaction. If something goes wrong, our customers know that they have only 1 number to call and Cisco will provide end to end support and won't need to get on the phone with multiple vendors who will invariably point fingers at each other.  Utilizing Cisco TAC's proactive and prescriptive support services for hardware, software, network and multivendor solutions enables you to unlock more value from your HCI investment.
Intuitive and simplified Management
The end goal for infrastructure modernization is to enable a cloud like experience.  That means streamlining deployment, eliminating silos, and consolidating management into a single user-friendly tool.  HyperFlex utilizes Cisco's Intersight SaaS based management platform to deliver lights-out remote deployment, simplified lifecycle operations with full stack upgrades and connected support, as well as full management control of your infrastructure from the data center to the edge.
Future ready platform
HCI has matured from a single workload application stack, to a long-term infrastructure platform that is the foundation for private cloud architectures in the datacenter and at the edge.  Organizations looking to adopt HCI need to have the confidence that the solution they select can support their current data center needs and future demands for hybrid cloud, containerized workloads, and distributed operations as the edge.  HyperFlex delivers a future ready platform that utilizes innovations that give customers confidence that they will be ready for the future.  These include All-NVMe storage for mission critical workload performance, enhanced Kubernetes support that includes the Container Storage Interface (CSI) plug-in, as well as unique features for edge specific configurations that utilize Intersight as a cloud hosted witness for 2-node configurations and Cisco SD-WAN integration to deliver end-to-end software defined branch office solutions.
Pillar #4 – Confidence through IT Peer success
Over 4000 customers have put their confidence in HyperFlex to successfully support their modernization strategy.  For organizations considering an HCI solution, the results of IT peers is perhaps the greatest validation of a product.  HyperFlex has a growing list of customer case studies that show impressive results of their deployment.
"Cisco HyperFlex was the perfect fit for us. We can invest once and scale up as high as we need. It's a better solution from a technical perspective and it makes a lot more financial sense. Also, we have Cisco support behind us, which gives us a lot of confidence."

Derek DePasture
 Senior Network Engineer, BluePearl Veterinary Partners

"We want to eliminate any points of complexity, so having one trusted vendor seemed logical and effective to us. Relying on Cisco to deliver every aspect of our hyperconverged solution would be truly simple and integrated"

Tyson Martin
Director and CISO, Orvis

"Of all the solutions in the market, Cisco's HyerFlex Systems offered the best value proposition, which gave me and the team a lot of confidence to deploy workloads like the VDI. The real secret lies in the HX Data Platform, a log structure distributed file system that differentiates HyperFlex from others in the industry."

Suresh Patare
Sr. Practice Manager – Data Center, KPIT Technology
Trust and Confidence
We would like to thank our 4000+ customers and partners who have instilled their trust and confidence in us and look forward to welcoming many thousands more into the fold. We're extremely proud of the strides we have made in the HyperFlex product over the last three years. We continue to introduce best in class innovations to the HyperFlex platform that raise the bar for simplicity, performance, and reliability. While our leadership in the market continues to grow, it's the fundamental pillars of trust that give customers confidence in HyperFlex.
To find out more about the 2019 Gartner Magic Quadrant for HCI:
Read the report with your Gartner account
CRN's coverage of the 2019 Gartner Magic Quadrant for HCI
Read more about HyperFlex leadership and solutions:
Top 10 Customer Reasons Why HyperFlex grew 2X the HCI market in Q2 2019 
CRN ranks Cisco HyperFlex as the 2019 Winner in the HCI product category
Business Value of Improved Performance and Agility with Cisco HyperFlex
HyperFlex delivers a 30% TCO advantage over competing HCI products
See how HyperFlex performs against the HCI competition for mission critical enterprise applications
Hyperconverged Infrastructure – Complete Simplicity Requires Complete Solutions
Taking the Full Power of Hyperconverged Infrastructure to the Edge with HyperFlex Anywhere
Deploy Enterprise Apps Solutions on HyperFlex
Cisco Jumps to Leader in November 2018 Gartner Magic Quadrant for Hyperconverged Infrastructure