According to Gartner, the Public Cloud market size is projected to be approximately $289.1B in 2021, with $61.9B of that amount spent on IaaS and $27.5B of this amount spent on PaaS. RightScale predicts 35% of the cloud spend is being wasted, i.e. not being used to create actual value. 
So, when it comes to your cloud bill, chances you are spending too much due to your cloud waste level being too high. 
Not only that, but cloud deployments are becoming more and more complex with hybrid and public clouds becoming the norm, according to IDC. This complexity is likely to make it harder for you to control your cloud bill(s) and is expected to increase your cloud waste level as part of your overall cloud spend. 
The good news is that the cloud waste problem is a solvable one as Cloud Cost Management and Optimization Tools (CCMPs) are becoming more useful than ever and can help you stay on top of your cloud spend in a multicloud world.  
At Cisco, we believe that cost management should be an integral part of your multicloud strategy and, we are committed to helping our customers monitor cloud usage and control costs across their on-premises environments and the public clouds they use. 
Next week, at Cisco Live! Barcelona, we have a couple of sessions to discuss this topic. In PSOCLD-1983, you will learn how you can have a cloud deployment strategy that addresses cost control, without adding to your operational overhead.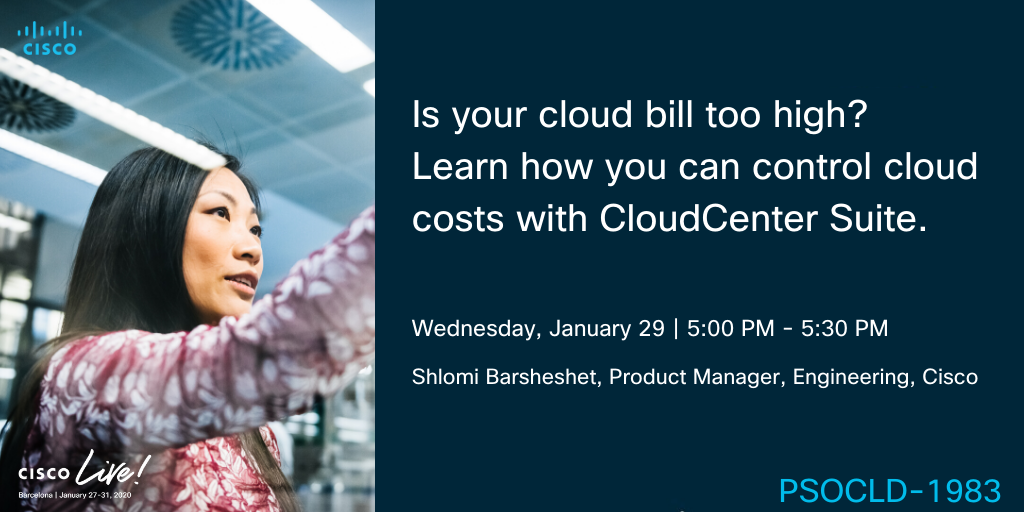 We'll discuss why this is a problem worth solving, what is our recommended approach to solving this problem and ultimately, showcase how one of the components of Cisco CloudCenter Suite, Cost Optimizer, can help you as you build your cloud cost control strategy. We are going to review why understanding, optimizing, and controlling your cloud spend is crucial in managing your cost and how CloudCenter Suite can help you do just that. 
 Finally, we are also hosting Tech Circle panel  TCRDCN-2900 on multicloud cost control, double-clicking on the most efficient best practices. The discussion will focus on two everyday use cases: optimizing public cloud spend and performance and accurately planning for public cloud migrations.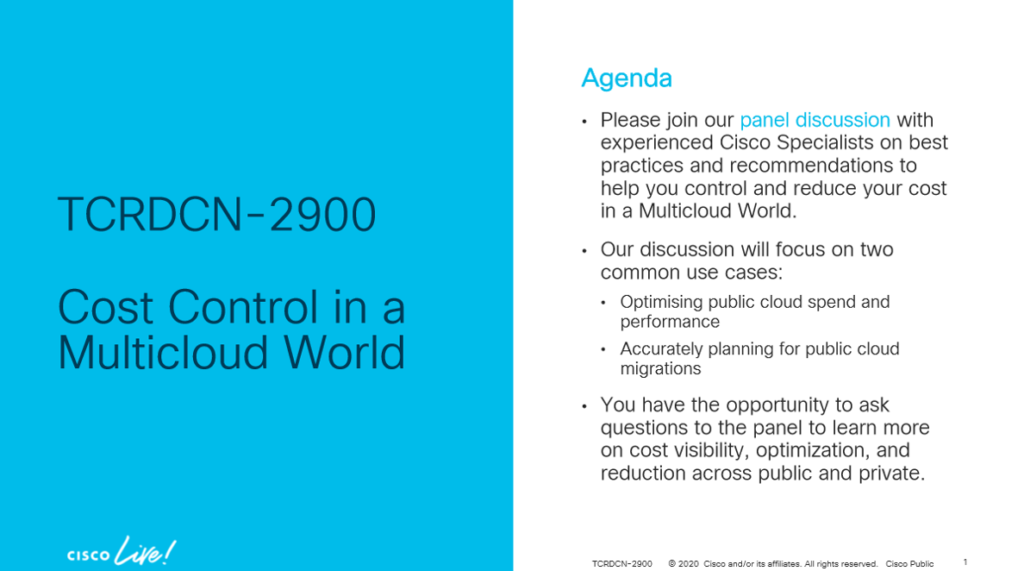 Looking forward to seeing you next week at Cisco Live! in Barcelona!
Follow Shlomi Barsheshet on Twitter: @Shlomibarshe.