Cloud.
The teenager's internet.
The celebrity's nightmare.
The IT salesperson's most favorite or most hated word, depending on where you work.
The Cristiano Ronaldo of IT.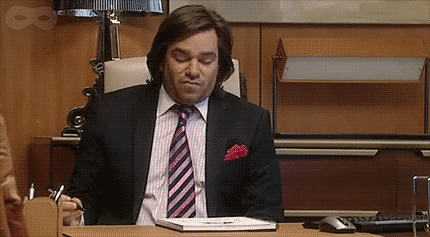 (true reaction of CEO after reading memo from CIO on Cloud)
We are living in one of the most exciting and interesting times ever for Information Technology. Capabilities, roles and processes are transforming organisations. Entire industries are being reshaped – including the IT one. Perspectives are being redrawn.
Everyone has a different definition on what "the Cloud" is, depending on where his or her view is from (this blog is not about providing yet another definition by the way – although there will probably be another one on that, most likely talking about the links with SOA 😊 ).
The challenge here comes predominantly from our human, our instinctive desire to turn intangible concepts into something tangible in an effort to understand them better.
Well, it's not that simple any more for IT, given the pace at which the industry is driving. Sorry.
Yet, there seems to be this perception that if you don't have a "Cloud" these days, meaning a website that someone can connect to or a list of services you offer that they can consume easily with a credit card, then you missed your chance to get attention in an elevator ride.
You are out of the "cloud game" apparently, if you are not able to respond quickly to the following questions: "Where is your cloud? Can I see it? Can I access it?"
Fair points and indeed, not being able to "showcase" your cloud in a simplistic way could be considered a big issue if you are just in the business of selling your "cloud" to customers or your specific type of cloud functionality, I guess.
But Cisco is not in the business of selling our "cloud."
We're in the business of helping and enabling our customers to navigate

 

a multi-cloud world.
And there is no right or wrong approach. There is no single secret recipe. There is no one website. Every business, every environment (especially in UK and across Europe) is different. This is why every organisation should adopt a different approach. Different use cases to achieve their goals and associated strategies. Not just for cloud, but also for any other paradigm out there, aligning business and technology in order to maximise value.
Rather than a "cloud" to sell, Cisco has a wide portfolio of cloud-enabling products and services from the network layer up to public cloud (actually, even in public clouds), as a result of years of engineering and investment in organic innovation and via acquisitions.
The above, along with a brave culture of not being afraid to "fail fast" rather than not trying at all– unique value for a company of Cisco's legacy and size, in my opinion – position us amongst the leaders in the cloud space.
Ultimately,
the "cloud" does not define us and it should not define us.
Enabling our customers to accelerate their cloud and digital transformation with our partners is.
That is what Cisco stands for.
Taking the first step towards your unique cloud (or digital transformation or… [insert latest hype word here]) journey is simple. Cisco has partnered with IDC to develop a unique, vendor-agnostic framework for you to assess your organisation's cloud maturity, discover practical insights on what your competitors are doing with cloud, so you can get started with your using solid, down-to-earth advice.
Try it here – And please stay tuned for this too – not to mention more updates on our own cloud journey!