Here I am again at another Cisco Live! I'm pretty excited about this one, because I'm not hosting anything…I'm really just here to learn and spread some of that information to everyone else. If you're interested in what Ruba Borno had to say, which technologies she made mention of, and the general direction Cisco is headed…read on!
As you might imagine, the keynote was really all about analytics and everything that goes along with it. Just like in Berlin she referenced Maslow's Hierarchy and how it relates to the digitization of the data center. It wasn't a complete re-hash, though. While she concentrated on Analytics she focused mainly on security for a lot of the discussion. Obviously the more data we have, the more complex it becomes to secure.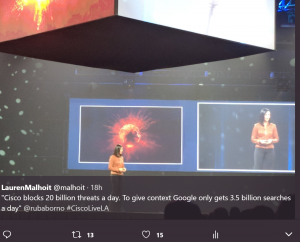 Borno points out that through our (Cisco's) Talos team and the various security technologies we have available, we're able to block about 20 billion threats a day. To put that in context, Google receives about 3.5 billion searches a day…so Cisco is blocking about 6 times the amount of threats than Google has searches. Now, that's all well and good, but the point here is that in order to continue working at this level, because it's not going to get better, we have to
Let the machines run the machines.
She started in the Enterprise…not surprising given the announcement of The Network. Intuitive. The announcement was based around DNA Center and SD-Access, but actually is starting to incorporate other areas at Cisco as well (Data Center, Security, etc). We're embracing the Open API now. If you haven't already heard, Cisco DevNet has become quite the force at Cisco. Engineers in various Business Units (BUs) and in DevNet are working on creating technology with Open APIs from the ground up, meaning it's not just an add-on with half the functionality of the CLI/GUI.
DNA Center is no exception. If curious about DNA Center check out TechWiseTV. We have a few shows already out, with more coming before February 2018. DNA Center is really the interface that allows us to create network designs, create policy, and finally automatically provision. What this means is that it is the central management for using technologies like SD-Access, ISE, and Assurance for a complete well-rounded enterprise network. <– This is what leads to an Intent Based network. So, I can have automation not only from the initial day 0 provisioning, but I can also create policies and segmentation models and provision those automatically to multiple devices. Intent does not end there, and that's where Assurance comes in. Now we can use analytics to find anomalies and inefficiencies and at least recommend best steps to fix the network, if not just automatically fix it. It's a true feedback loop. Of course DNA Center offers monitoring for things like checking health scores easily as well. DNA Center also gives us the ability to manage both wired and wireless networks.
Let's talk about ETA for a minute. Encrypted Traffic Analytics. ETA is basically in a league of its own. Although encrypted traffic is great, and we should almost always make sure we're encrypting traffic, the technical (and business) problem with encrypted traffic is that we haven't been able to analyze it for malicious payloads. Now, using ETA, which is part of the StealthWatch tool we can analyze encrypted traffic flows, or really the metadata associated with these flows, and we can tell if something is malicious. This means we aren't decrypting anything, or invading any privacy. It's all done by analyzing the "body language of a packet" as Borno stated in the keynote.
We then moved into the obligatory discussion on multi-cloud. Yes, it's necessary to have this discussion. Cisco has been making several cloud announcements recently, mainly our new partnership with Google. And while that's exciting, there are several technologies that have been enabling various partnerships with cloud. For example, ACI Anywhere, Cisco Cloud Center, vEdge Cloud from the recent Viptela acquisition, CSRs, and on the the security front Umbrella. Tetration Analytics, which was originally an on-premises appliance coming in large and small form factors has made it's way to the cloud as well, in the form of Tetration Cloud currently running on AWS.
An analytics keynote would not be complete without mentioning one of our more recent acquisitions AppDynamics (fondly known as AppD by those in the know). Basically where Tetration leaves off in the data center, telling us everything we never wanted to know about our traffic and how to segment our applications, AppDynamics picks up with the application itself. Actually AppD goes beyond the application to what we're calling Business iQ now. So, it will help us with our business processes, doing things like comparing revenues (more on AppD in a near future blog).
The keynote was rounded out by talking a bit about Kinetic (anyalytics for all your IoT devices) and finally brought back to the "human experience" and "self-actualization" via Mazlow's hierarchy by talking about Spark as well as the new services offering available at Cisco. Check out this TechWiseTV episode for more on that.
Phew…that was a lot. As always, if you have any questions or comments, feel free to leave them below or reach out to me via Twitter @Malhoit or @TechWiseTV.
Gracias mi amigos!