Being able to work remotely, most of the time, is a benefit that many of us at Cisco enjoy. Some of the pluses for the employee of working from home are increased productivity, less time commuting, and a better work/life balance. This is a mutually beneficial relationship, and from an employer point of view, the advantages are improved employee retention, lower overhead costs, and access to a wider pool of applicants to name a few. It is a win/win relationship.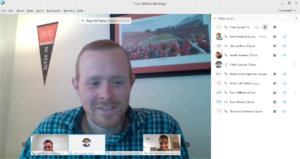 Unfortunately, no situation is without its drawbacks. According to a 2018 study, loneliness is the biggest struggle to working remotely. Human beings are social. We need to talk, make eye contact and interpret body language to truly feel a sense of belonging. On a biochemical level, oxytocin is released by the emotional connection we feel when socializing with others.
Am I suggesting that we suddenly hop in our cars and drive in to the office? Absolutely not, but we need to address this issue of loneliness because of its impact on mental health, and ultimately employee performance.
Cisco has made a conscious effort to show it cares about mental health. From the #SafeToTalk initiative, company wide communication from Chuck Robbins, Cisco Canada partnering with the Centre for Addiction and Mental Health, and countless other programs, the "brain" is literally on the brain.
So what can we do to make a positive impact on our day to day work lives, that translates in to our personal lives as well? Enter: Cisco technology.
During the fall of 2018, the Canadian HTOM team, led by Keith Haddad, started holding what was initially dubbed "Friday Social" Webex meetings. Outside of our regularly scheduled team meetings, the original intention was for a different team member to host each week and share best practices that could benefit the rest of the team.
After a few initial calls, the nature of the meetings began to shift, and instead of one individual taking the reins, the team just started talking. Being located across North America, we seldom have the opportunity to be in the same location, but these calls were the next best thing. These calls were simply to discuss our lives. From kids, to hobbies, to TV shows, these 30-minute calls gave us the opportunity to truly become a team.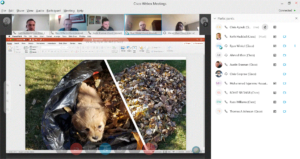 One might think this could be isolated experience and that this initiative was only successful due to the mix of individuals that were involved. In the spring of 2019, however, a re-org was announced within our department. Our team was going to be shuffled with Keith and three of the existing members moving on.
Our team now consisted of a dozen new individuals who had not been around for the previous "Friday Socials." Could this experience be replicated? The answer is, "Yes!"
From hearing other's stories and sharing family photos to laughing together and helping each other to unplug from our day-to-day tasks for just 30 minutes, the feedback was resoundingly positive. If this practice can work for two different remote teams, then I think it can be a benefit for all remote teams across Cisco.
HOW TO GET STARTED:
Each team member puts together a 1-2 slide summary of themselves. This can include family pictures, favorite foods, hobbies, essentially anything they are passionate about.
Book an initial 60-minute call for each member to present their slides. This is icebreaker part of the process where inevitably people realize how much they have in common.
Schedule a recurring call towards the end of the week. Our team meets at 12pm ET on Fridays. Teammates can feel free to eat their lunches. It is very casual. Our previous team met at 10am because we were all in the same time zone.
Meet & Repeat.
A note here as well, just like any other social situation, some people will share and talk more than others. That is perfectly fine. The goal is to create a fun open atmosphere.
In this time of continuous change and innovation at Cisco, where Customer Experience is at the forefront (not to mention just ahead of the holidays and new year), I cannot think of a better reason to give Friday Socials a try. As the saying goes, "Happy employees make happy customers."
The cherry on top is that this is FREE. There is no additional investment required. Our world class technology with Webex is already in place to get everyone started. All it takes is a few calls for the momentum to build and before long, your team members will be looking forward to weekly calls as well.
Ready to join our teams? We're hiring. Apply now.