Cisco Live-US 2018 is next week in Orlando, Florida and it is going to be awesome.  There will several incredible sessions and activities.  One of the truly important tracks this is focused on 5G – the fifth generation of mobile technology.  5G will be different.  Unlike previous generations where the focus was connectivity or meaningful bandwidth, this new generation will be about providing connected experiences from the Multi-cloud to the client.  5G can make the digital transformation for consumers and business a reality.
As the service provider community begins implementing early 5G access the big question is what services should be introduced and how do we build a successful 5G network from the Multi-cloud to the client.
Cisco Live – US 2018 has a 5G Learning Path developed to answer these and other questions. Many of these sessions include live demonstrations of 5G network architecture.  These sessions are being delivered by some of the best experts in the industry.
Sessions include:
PSOSPM-2030 – 5G Mobile Core Evolution to Cloud Native – Wednesday, June 13, 2:00 p.m. – 3:00 p.m.
In this session, you'll see what 5G cloud native architecture looks like and how you can use kubernetes/docker for automation and lifecycle management. You will also have the opportunity to see live instantiation of 5G Network Functions (NRF, NSSF, AMF), canary upgrades and telemetry using Grafana charts with live traffic.
BSOSPM-1000 – 5G Monetization Strategies – Thursday June 14, 10:00 a.m. – 11:00 a.m.
5G will required a large investment from the service provider. So how will you get the best possible return on your investment?  As many people have stated, 5G needs to be different.  We must approach 5G services and tariffs in a new way.  This session examines the most likely services for early 5G and how to best implement and tariff to break away from the competition and be successful.
BRKSPM-3001 – 5G network using Segment Routing for Transport – Thursday June 14, 8:00 a.m. – 10:00 a.m.
5G networks will be growing and getting more complex and needing to deliver on far more stringent requirements.  Segment Routing can be used to gracefully scale exponential traffic and also support new functionality like Network Slicing, MEC and distributed packet cores, etc.  Different SR technologies will be introduced Flex-algo for network slicing and ODN to link SLA between transport network and services.
Other sessions will cover additional network design, and implementation concerns.  Two extremely important topics – Automation and Security – will also be cover in great depth.
Here is a concise list of all the 5G learning track session available for you this year: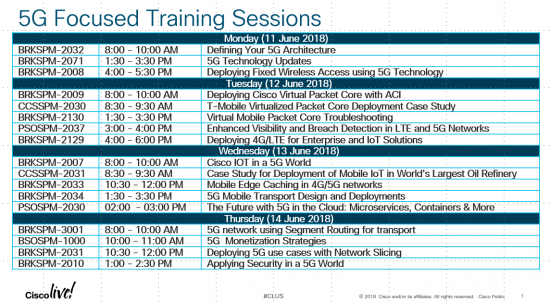 In addition to these great learning sessions we have demonstrations throughout the convention center.  And for your convenience we have a Service Provider Zone that is open all week.  Here you can meet and greet Cisco executives and subject matter expert.  You can also get a lay-of-the-land to help identify demos that meet your particular interest.
Service Provider Zone – Open all week
The place for "all things Service Provider" is where else – the Service Provider Zone, adjacent to the Cisco Campus in the World of Solutions. Here you can:
Meet our executive during the WoS Reception (food! drinks!) on Monday from 5:00-7:00pm.
Meet with an expert for a whiteboard session
Schedule a guided tour of the service provider demonstrations on the show floor. Contact "" to schedule in advance.
Learn more about Networking, 5G, and network automation
Need help? Get help on what to see, where to go, and what to do for the best Cisco Live experience.