One thing that I frequently hear when speaking with our data center customers is how the application landscape is in a constant state of accelerated change. Demands on the IT department have evolved rapidly over the past few years, compelling many customers to transform their operations with virtualization and cloud computing. Today's challenges include addressing the ever-expanding scale of cloud; processing analytics for the data-intensive workloads generated by the Internet of Everything; and deploying and managing distributed edge-scale computing for smaller, more remote IT environments.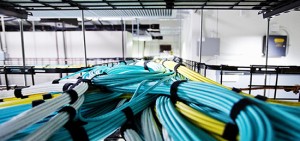 Rather than trying to anticipate every data center trend, staying ahead of the curve for our customers is about having the ability to innovate when needed. In other words, to be prepared for the data center of the future, the application infrastructure needs to be "future-proofed" for whatever comes next. Future-proofing the data center means having business agility, which in turn translates into application agility.A future-proofed infrastructure employs a common operational model among the application, network, security, and cloud architectures. It delivers agility through simplified operations and assured performance. At the same time, it's able to scale as more users create information in new ways—and as organizations strive for deeper intelligence, faster decisions, and solutions that offer a competitive edge.
Five years ago, we shattered convention and transformed the data center industry by bringing networking, computing, and storage together into a single platform. Since then, we have delivered results to more than 30,000 Cisco UCS customers, and we recently achieved the No. 1 in the Americas market position for x86 blade servers.
Industry analysts and our data center clients tell me that Cisco data center solutions position IT managers for success by helping to future-proof their application infrastructure. On September 4, we'll share how we continue to be focused on innovation by announcing the broadest offerings of new Cisco data center technology since the launch of UCS in 2009. I invite you to join us to learn more about how Cisco and its partners will help customers achieve desired business outcomes with the Cisco Unified Computing System.