End-user expectations for digital experiences have never been higher. Cisco is meeting the demand to have an unplugged and uninterrupted experience with its multi-domain integration across the data center, campus, and branch.
But what does this mean in practicality? Application access must be secure regardless of location. Everything must be connected. And the connection must always be on. These expectations are driving the digital transformation happening all around us today.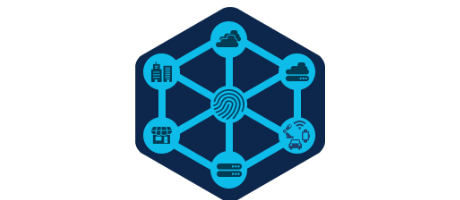 Today's workforce is mobile, unplugged, and expects a high-quality application experience, The office is wherever you are, whether it be in the office, at home, or at a café. Such connected mobility is critical, but how well you're able to interact with your applications is perhaps even more critical for productivity.
For businesses, the need for user segmentation is growing, while also ensuring a completely secure environment. Businesses must provide what users have come to expect when it comes to infrastructure availability, flexibility, and performance. Every organization needs to deliver this unplugged and uninterrupted experience. Business outcomes are driven by connected devices that must be always-on. Network downtime means missed opportunities and the halt of growth.
Finding the right balance
The challenge of balancing these requirements for an unparalleled digital experience falls on the shoulders of IT. When considering how varying the types of needs in different campus environments are today, you can understand the need for multi-domain integration that brings together network visibility, access, and always-on security:
Medical campuses, with life-saving devices connected and relying on the network.
Facilities management, with a vast array of IoT that includes HVAC, security imaging, and lighting control systems.
Retail operations, with internet-connected robotic systems fulfilling orders and restocking returns.
Marriott's 2018 data breach is the perfect example of the delicate balance between user experience and security that IT must manage. While the focus was on users and the ease of its reservation-booking experience, the hotel chain was unaware that a security breach in the reservation database had taken place over a four-year period, which involved over 380 million guest records and cost the organization more than $120 million to mitigate.
On the one hand, IT is tasked with providing the best digital experience for users and the organization. But at the same time, an equal importance must be placed on compliance requirements and mitigating business risk.
Multi-domain integration for your network
In response to this need, Cisco introduced Intent-Based Networking (IBN) in 2017, which delivers a secure, end-to-end digital experience, with its intuitive, self-optimizing, always-secure network that takes the guesswork out of network management through the power of multi-domain integration.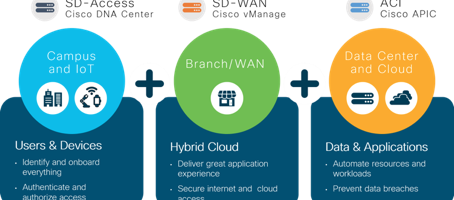 For the campus, Cisco has delivered the IBN vision through SD-Access. For the branch, it's SD-WAN. And our Application Centric Infrastructure (ACI) encompasses both the data center and cloud. Multi-domain integration enables these three components to complete our IBN vision, which is a solution only Cisco can provide.
Enhancing your business outcomes, multi-domain provides the expected user interactions with all applications across these interconnected domains, while simultaneously driving down costs, complexity, and risk.
Users and devices can log on from anywhere, while applications can also reside anywhere. Whether you're using cellular, wireless, or a wired connection from any campus, branch, or remote location, the end-user is provided a seamless, secure experience regardless the means of connection.
The support of built-in security
Built-in security is a key component to reducing the attack surface and mitigating risk, while continuing to provide a fully connected, uninterrupted service. And there are three fundamental pieces of the end-to-end security that multi-domain integration provides.
The first is continuous network visibility. Traditional perimeter-based security, or even a standalone endpoint security solution, isn't able to address the network communications flow between users, applications, and devices.
Next is Zero Trust. Bad actors are becoming more sophisticated in avoiding detection. Logical end-to-end segmentation—where we contextually group all endpoints, users, devices, and applications—enables the network to isolate only those assets and resources where access is authorized at any given time.
Finally, constant protection is the final piece of our security puzzle. The network transformation afforded by multi-domain integrated architecture means your entire infrastructure becomes dynamic. To provide total security, Cisco embeds hundreds of thousands of control points with every network device—from the campus across the branch, and into the data center and cloud.
Multi-domain integration brings all the pieces of the IBN puzzle together. And Cisco invites you to unlock the potential of your network and take the next step in your organization's digital transformation.
Watch for a future blog that dives deeper into the multi-domain integration story and how it works for your network.