Italy's largest science and technology museum has a new addition to its elaborate exhibitions of artefacts and art. Thanks to our collaboration with the Italian Government and an investment through our Cisco Country Digital Acceleration (CDA) Program, Milan's Leonardo da Vinci Museum of Science & Technology is now home to our newest Co-Innovation Center – focused on cybersecurity, privacy, dig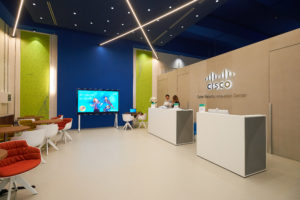 ital skills and social impact.
The namesake for Leonardo da Vinci, an Italian polymath of arts and sciences, the Museum first opened in 1953 with its goal to serve as a resource for inspiration and research to future generations. Building on that spirit, Cisco now brings to life an environment where learning and digital co-innovation can take place, with security and privacy at the heart of it all.  This center will bring together communities of customers, partners, start-ups, accelerators, governments, universities and researchers to foster the exploration and development of new frontier technologies. The center's reach will extend beyond just Italy and will become a valuable resource for our stakeholders across Europe's technology ecosystem.
As part of our ongoing investment in cybersecurity across Europe, this cybersecurity co-innovation center supports the European Commission's mandate of creating a more secure future for citizens across Europe. That said, the inauguration of this first-of-its kind space would not have been possible without the strong relationship Cisco has fostered with the government of Italy. This strategic collaboration that has grown over the past several years is characterized by a staunch belief in the power of digitization, and that digitization cannot occur effectively without data protection, secure access and privacy.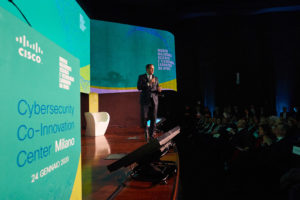 Even at a municipal level, the City of Milan also has a rich history of collaboration with Cisco; stemming from a relationship that blossomed during Expo Milan 2015, Cisco would ultimately help block over 500,000 cyber-attacks aimed at the event's infrastructure. This then enabled a variety of other subsequent initiatives, including the creation of Safer Milan, a program designed to integrate and strengthen smart city and urban security-related services.
We are proud of the investments we have made to help develop the digital skills of Italians across the country. Through our Networking Academy program, we have helped develop the digital skills of 40,000 Italian students, 24,000 of which have taken part in our cybersecurity training courses.  We will be continuing to partner with the academies to enable more learners in Italy and across Europe gain the digital education needed for the workforce of the future.
It is incredible to see these synergies cultivated through CDA because they don't just harness the power of solutions and boost a country's digital readiness; we are also transforming lives and helping create a more inclusive future across the globe.
We look forward to seeing the positive impact that this new cybersecurity co-innovation center in Milan will have in the months and years ahead.
You can read details of the announcement here.