Guest Blogger: Hari Srinivasan, Sr. Product Manager
Hari Srinivasan manages the Industrial Ethernet and Embedded Switching products at Cisco's IoT Networking group.
From supporting soldiers in the battlefield or first responders at a disaster scene, to maintaining high-value infrastructure, access to highly secure broadband for voice, video, and data communications is critical. And since disaster can strike in some of the world's most inhospitable and remote places, lives often depend on communication equipment operating in hostile environments.
These applications require highly specialized solutions. For example, forward-deployed military vehicular units require compact, light-weight, self-powered, man-portable, communication modules. In addition, these modules must be rugged, quickly and easily mounted, and set up to provide reliable connectivity to military personnel groups of various sizes. Off-the-shelf switches simply do not meet all of these needs.
With this in mind, at the 2018 SOFIC, the premier industry conference for Special Operation Forces, we announced a significant new addition to our embedded networking portfolio. The ESS 3300, Embedded Services 3300 Series Switches, is just the right match for many Defense use cases.
Samuel Pasquier, Director, Product Management, Industrial IoT Networking at Cisco had this to say after returning from the conference:
SOFIC was a great opportunity to engage with defense industry professionals. It's clear that the next generation of Special Operations Equipment and future tactical capabilities are poised to take even greater advantage of high speed communications networks and Cisco is right there to help them with our embedded portfolio of products.
Using the ESS 3300, Cisco customers and integrators are building custom Gigabit Ethernet switching solutions and custom SWaP(Size Weight and Power). At SOFIC, we announced the ESS 3300 and showcased ESS 3300 based switch solutions from Cubic corporation, Curtiss-Wright corporation, Klas Telecom and Pacific Star Communications, Inc.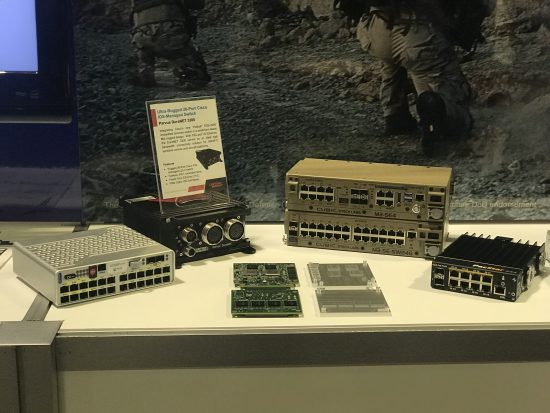 Matthew Ratnesar, Senior Director, Product Line Management and Solutions at Cubic Mission Systems offered this assessment:
The ESS 3300 is a game changer for the DoD and commercial customers. It has brought us the needed bandwidth and services to support next generation transmission systems and hyper-converged technologies.
When you have to carry communications gear on your back, you want it to be small, light, and ready to operate in any environment. In addition to mobility, you need all the right ports and a ruggedness that protects it from heat, shocks and vibrations, and tampering. Of course, the last thing you need is a power hog. With the ESS 3300, Cisco is making it easier to deploy reliable, secure, low power, high speed tactical networks for command posts and communication on the move systems. Integrators can even build highly customized systems for military vehicles, aircraft, drones, ships, and many more use cases.
Frank Murray, the CTO of Klas Telecom, had this to say about the ESS 3300:
The ESS 3300 is an excellent addition to the product line and the 10-fold speed increase it provides is critical to the delivery of Enterprise grade performance in the harshest conditions.  
As Charlie Kawasaki, Chief Technical Officer of PacStar noted:
The ESS 3300 meets the demanding size, weight, power and performance requirements of the tactical, expeditionary and mobile communicator for many years to come, and enables PacStar to deliver Cisco technology in the optimal, rugged form factor.
Lynn Bamford, Senior Vice President and General Manager, Defense Solutions division of Curtiss-Wright added:
…[this] enables us to deliver the most advanced Embedded Service Switch technology to system integrators of embedded COTS solutions used in critical applications in the harshest environments around the world.
Reliable communications for other complex industry environments
The compact size and low power characteristics of Cisco ESS 3300 is also a powerful fit for other industry verticals that require customized high speed Gigabit Ethernet switching. With reliable and easy to use management, portability, custom form factor and low power consumption, ESS 3300 enables businesses to stay connected in any environment.
Oil and gas companies operate in some pretty remote places, and require reliable networks to ensure safety, higher efficiency and investment protection of high-value assets.
Communication gear in these applications require reduced SWaP, ability to operate in extreme temperatures, tolerance to shock and vibration and ingress protection.
Cisco partners and integrators can develop switches leveraging ESS 3300 inside with custom enclosures and their own choice of physical media – copper or fiber. With reliable networks, you can monitor equipment, ensure alerts are transmitted to the right people, and even stream video from distant locations that otherwise take hours, or days, to reach. Now a remote drilling operation can have high-quality voice, video, and data connectivity. Think of the time and money saved by being able to collect data on-site from a drilling site, mine data for real-time insights, collaborate with a globally-dispersed team via video conference, and then take action.
While demands may differ in the field of transportation – automotive, rail or aviation, they are no less important. From surveillance and security, to advanced telematics, vehicles in motion need access to connected services.
The compact size, board configuration options, 1G/10G capabilities, and optimized power consumption are just a few of the advantages of our embedded networking portfolio. The ESS 3300 also runs the trusted and feature-rich Cisco IOS XE Software, providing the familiar Cisco IOS CLI and management experience. No other company can match Cisco's range of IoT hardware and software solutions. Cisco ESS 3300 is part of a broad portfolio of embedded products which includes Cisco 2020 ESS, Cisco 5915, 5921 and 5940 ESRs.
With the ESS 3300, we're making cutting-edge high bandwidth communication possible for a wide variety of applications and enabling our partners and integrators to build custom solutions with Cisco embedded technology for their specific markets and use cases.