As you continue taking steps on your journey toward getting Cisco DevNet Certified starting February 24, 2020, I'm happy to report about one giant leap you can take today to get one step closer. Starting today, you can now reserve your space for the new exams!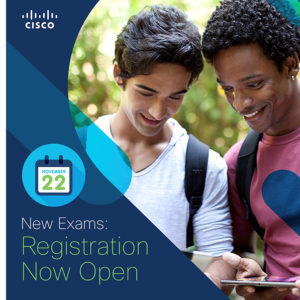 So what's your immediate call to action? Sign up today and more importantly, engage with us on Twitter @CiscoDevNet. Tell us that you're all geared up and ready to go – and more importantly, let us know what exam you plan to take first!
The holidays are around the corner and we know you've been eagerly anticipating updates on achieving your DevNet Certification to help enhance your technology skills and better prepare you to optimize and write applications for the new network. Once you take the exams, it will be the gift that keeps on giving – personally and professionally.
As you continue preparing and studying for the DevNet Certification exams, remember to bookmark developer.cisco.com/certification so that you can browse for related topics within our free DevNet resources, including video courses, learning tracks and sandboxes.
I'd also encourage you to check out the following webinars to jump-start your certification preparation:
We'll be sure to keep you updated on all DevNet Certification news and offerings because there are so many more details to come. So, stay tuned and get prepared for February 24, 2020. And as always, keep engaging with us on Twitter @CiscoDevNet.
Cheers and Happy Holidays!
---
We'd love to hear what you think. Ask a question or leave a comment below.
And stay connected with Cisco DevNet on social!
Twitter @CiscoDevNet | Facebook | LinkedIn
Visit the new Developer Video Channel