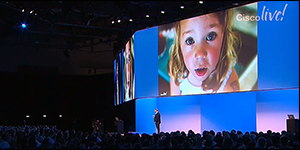 Watch the highlights from Cisco Live Barcelona.
Keynotes & Innovation Showcases – Full Sessions
Daily Highlights
Keynotes & Innovation Showcase Highlights
All of the Cisco Live TV studio videos and interviews are available on the Cisco Live Europe YouTube channel.
Proof of Concept: Crypto Currency
Learn about blockchain with Vallard Benincosa and Tom Davies.
Start here: Create a wallet, get five KETHs, buy DevNetCoin.
Black Hat Challenge

Embrace your inner hacker, hit the vulnerable IOT devices and try to access the prize!
Black Hat Learning Lab / DevNet Zone
Last Day, Friday Feb 2nd 8:00 – 13:30 CET
Here's what you'll be doing
First you will hack your way on to the "secure" wifi network for corporate security
Then you'll exploit a vulnerability on the router to access the camera vlan
Then you'll get the code for the safe by hacking the camera and downloading archive footage of an employee opening the safe
Then you'll overload the camera with a denial of service attack so the security guard doesn't see you opening the safe
Then you'll open the safe under your cover of DoS darkness! Collect one of the tickets to claim your very own Fedora from the DevNet info desk.
One click social login with GitHub, Facebook, Google or your Cisco / Spark ID. Start the Black Hat Learning Lab Now.
New Videos from Cisco Live

I chat with Joe Clarke, Distinguished Engineer, about the importance of Network Automation for building and operating the network at Cisco Live Barcelona.

No one has been doing automation and programmability at Cisco Live longer than Jason Davis, and I get a chance to chat with him about some of the great stuff going on in Barcelona.
Video Replay: Rise of the Network APIs
Facebook Live broadcast link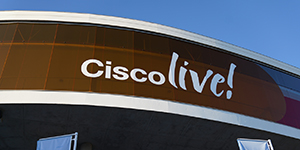 Join Susie Wee, VP & CTO of DevNet at Cisco Systems, as she shares her vision on how Cisco is building APIs across its portfolio and how DevNet gives you the tools, resources, and training to embrace the network as your innovation platform.
Jerzy Foryciarz is a Senior Product Manager on Google Kubernetes Engine. He joined Google in 2011 working for Google TV, Youtube and Google Now. Prior to Google he was an Engineering Director of Motorola Cellular Networks Software. He holds MSc in Computer Technologies in Nuclear Physics from Jagiellonian University, PhD in Nuclear Physics From National Academy of Sciences in Poland and an MBA from Chicago University Booth School of Business.
Visit our Cisco DevNet Facebook page for the video replay.
See Also
The DevNet Zone at Cisco Live is Ready for YOU! by Susie Wee.
HyperFlex Multicloud Platform is here and coming to Cisco Live Barcelona by Francoise Rees.
Navigating the Partner Xperience at Cisco Live Europe by Matthew Ingram.
Barcelona, Here I Come! by Joseph M. Bradley.
---
We'd love to hear what you think. Ask a question or leave a comment below.
And stay connected with Cisco DevNet on social!
Twitter @CiscoDevNet | Facebook | LinkedIn
Visit the new Developer Video Channel