Live from Cisco Live Berlin…
Eight customers joined @SoniJiandani on stage in telling their stories on why Cisco SDN makes sense for their business.
Shutterfly and  Kaylane take the stage to talk about why Programmable Fabric was a benefit to them:
Jeremy J. Franzen Director, Network Engineering, and Arslan Munir Director, Cloud Engineering & Network Architecture at Shutterfly: they were faced with operational and scalability challenges and then leveraged PoAP for zero touch provisioning and NX-API for automation to simplify and accelerate deployments.
Sebastiaan van Nisius Team Lead, SaaS Projects at Keylane: They needed to build future proof solution with Nexus 9K that enabled them to move data faster while using less switches. They see this a key difference in giving them an advantage in time-to-market against competitors.
Next up were the Cisco ACI customers.
Andreas Weigand at Technische Universitat Dresden: The business needed high performance fabric with multi tenancy. ACI helped them to achieve and spin up multi-tenancy quickly to be more productive. Their "Wow Moment" with ACI was the plug-n-play and the ability to quickly and easily to add new switches. "IT JUST WORKS!"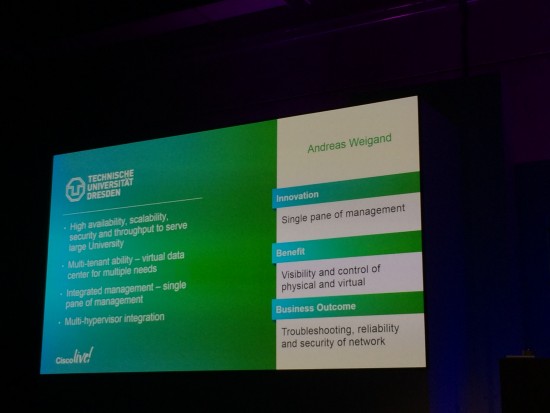 Dr. Dietmar Reinelt Vice President, Infrastructure Management, SAP AP: The SAP cloud services is growing at a rapid pace and creating complexity in managing that growth. ACI helped them be able to do more with less through automation and scalability at large scale.

Cenk Niksarli, CTO at HALKBANK: They needed a long term solution to manage requirements and complexity. ACI helped them to deliver fast business now. It simplified multi tenancy model while maintaining compliancy. Their biggest "Wow Moment" is the ability to upgrade the whole data center in a matter of minutes without downtime and while still delivering fast services.

Steve Cuneo VP, Networking at NBCUniversal: Cisco ACI helped them in automating their network with the ability to do segmentation across business units in a secured fashion.

Martin Lipka, Head of Connectivity Architecture at Pulsant:  ACI provided a new application layer of abstraction simplifying operations and enabled everyone to be a cloud expert with ZERO unplanned downtime.
And they have seen huge a whooping  513% ROI

Jon Rennie Infrastructure Services Manager, Service Operations at Sainsbury's: ACI helped them to build a converged infrastructure to interact with customers whenever and wherever. Biggest "Wow moment" is the speed of deployment in being able to deploy servers in a matter of hours vs days.
You can catch all the talk about #CiscoACI and #CiscoNexus on Twitter!