Security is central to an effective network. It is as critical as performance   when it comes to instilling confidence in customers, employees, partners and administrators. Before they'll use the network, they want to really trust the network.
Trust is earned from a rock-solid and secure network where potential security vulnerabilities are eliminated. But where are those vulnerabilities? You need to know before you can fix them.
For more than a decade, Cisco has had a dedicated Product Security Incident Response Team that regularly publishes security advisories to keep customers informed of potential security issues. Cisco has recently released a new Cisco DNA Center capability that makes it easier than ever to use this information to secure your network by helping to identify and close potential security vulnerabilities.
But where are those vulnerabilities? You need to know before you can fix them.
Previously, a network operator had several approaches to check these vulnerabilities. They could use a software checker tool, Cisco Prime, subscribe to a Cisco Advanced Services offering or manually look up, line by line, any notices about a specific version or versions of software—generally manual or expensive alternatives.  Now, using machine reasoning, Cisco DNA Center adds another, more automated alternative where you can access the published security advisories via automated subscription, compare the notices with what Cisco DNA Center already knows about the network, and return a list of potential vulnerabilities. The list is delivered to Cisco DNA Center and stack ranked with the most critical fixes listed first.
Cisco DNA Automation can make security more effective and easier to manage.
Network administrators can click on any service advisory to open its dedicated landing page and drill down for more details, including affected devices and configurations as well as necessary patches and remedies.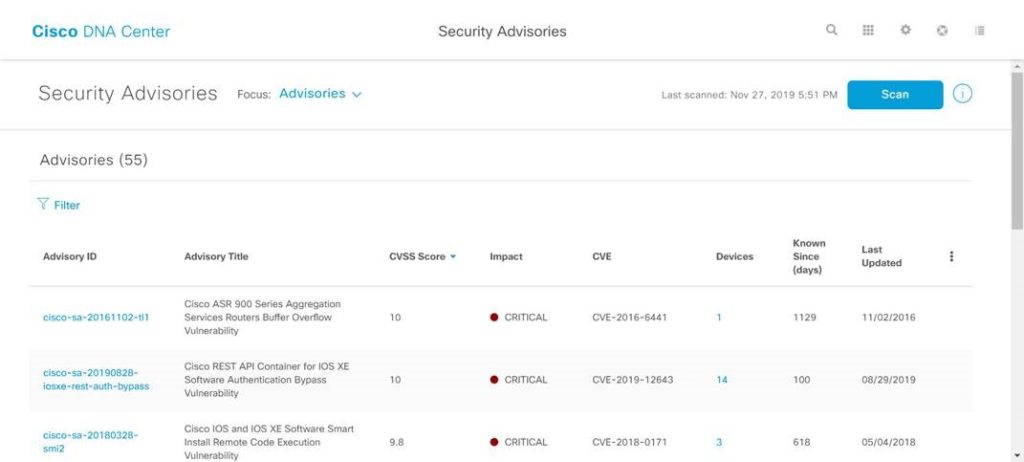 This new capability will continue to grow, providing yet another example of how Cisco continues to add security related integrations to the Cisco DNA Center. And more value overall.
Join the conversation and share your thoughts below!