Partner
Cisco Partner Weekly Rewind – March 15, 2013
Welcome to the inaugural edition of Cisco Partner Weekly Rewind. Every Friday, we'll highlight the most important Cisco partner news and stories of the week, as well as point you to significant Cisco-related content you may have missed along the way. Let's have at it.
Off The Top
Edison Peres, senior vice president, worldwide channels, highlighted significant wins for Cisco at this week's Channel Champions awards, presented by UBM Tech and CRN at XChange Solution Provider in Orlando. Cisco won an overall 16 awards – not too shabby! – and several overall category wins, including Unified Communications, for the 10th straight year, and midrange servers.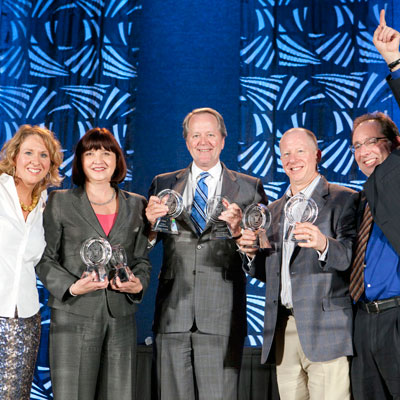 As Edison notes, that server win, for technology crucial to Cisco's Unified Computing System (UCS) strategy, is particularly significant.
"Just look at how much this community has grown: 3,000 partners actively selling UCS Solutions and more than 20,000 end customers," Edison writes. "Partners are building software solutions using the UCS developer tools we've provided and major strategic allies like VCE, NetApp, and Hitachi are winning in the data center with our combined technology and solutions."
Check out photos of all the Champs winners, including Cisco, here, and Cisco's Wendy Bahr, Richard McLeod and Thomas Wells collecting the hardware (at right).
Speaking of UCS, there are now build-to-order and configure-to-order options for UCS available from distributors Ingram Micro and Tech Data in Canada – part of an ongoing push toward UCS enablement for Cisco distributors around the world. As ChannelBuzz.ca's Robert Dutt notes, it's an important move because it "could drop the leadtime for a UCS order from months to days."
HCS Getting Hotter
Richard McLeod, senior director, worldwide collaboration sales, noted that Cisco's Hosted Collaboration Solution (HCS) now has 40 partners, and Cisco is continuing to expand its HCS breadth with new wholesale partners like Ingram Micro.
Now is the time to give customers the option of "no compromise" cloud collaboration, Richard says.
"One of the key growth areas lies with Cisco authorized partners who want to sell cloud services but don't have the scale to own and operate those services," he writes. "The beauty of Cisco's go-to-market strategy for cloud is in our Cloud Partner Program, which enables Cisco-Powered HCS Cloud Providers to sell their services through authorized Cisco UC and Collaboration resellers."
Around The Horn At Cisco
There was plenty of important content from team Cisco this week. Here are some highlights:
Keep An Eye Out
On March 28, Cisco Chief Marketing Officer Blair Christie and Cisco Chief Futurist Dave Evans will discuss the Internet of Everything at The Economist's Innovation Forum 2013.
Every year, CRN organizes the top solution providers in North America into the Solution Provider 500. Cisco partners always make a strong showing in this hugely influential list, so be sure to register by April 1 if your organization deserves a spot.
Cisco Partner Summit 2013 is only weeks away. You can see updated information on sessions and speakers here.
Which stories were most interesting to you this week? Share your thoughts in the comments section below.
Tags: