This week at CiscoLive Orlando, Cisco made two announcements around Enterprise Routing – Open EIGRP and EIGRP OTP. Originally announced at CiscoLive London, EIGRP has been opened to the community as an IETF Informational Draft "Open EIGRP", Open EIGRP  provides vendors with technical information on EIGRP and the accumulation of 20 years of development and enhancements. With the publishing of this IETF Draft, vendors can now integrate EIGRP into their appliances and interop with Cisco.
On Tuesday, Cisco also announced a new innovation in Enterprise Routing; "EIGRP Over the Top" (or simply OTP).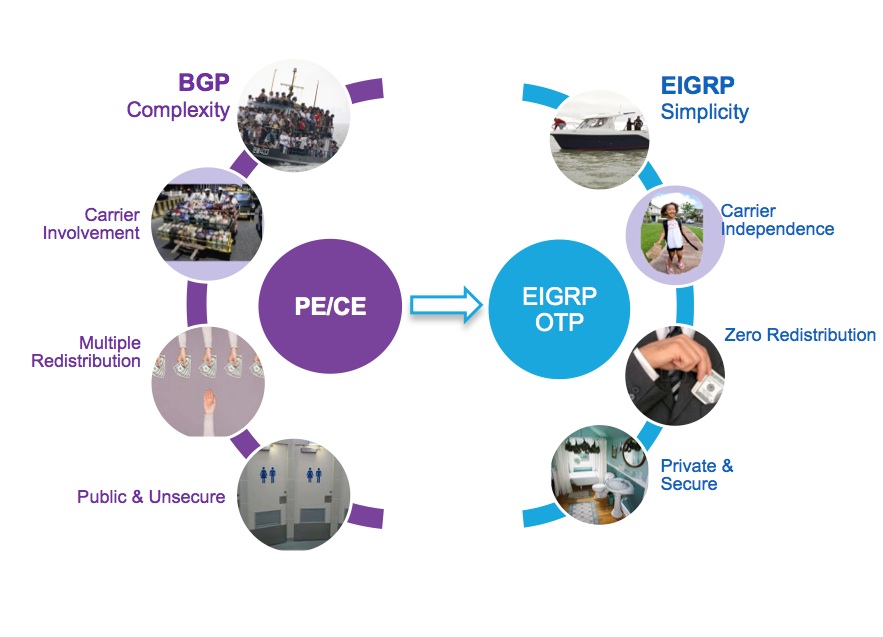 The advantage of EIGRP OTP is partly in its easy of deployment, but also in the simplification of WAN deployments:
http://blogs.cisco.com/getyourbuildon/simplifying-multi-provider-wan-designs
Before EIGRP OTP, connecting remote sites back to the Home Office or Data Center meant you had to pass your your networks topology "through" the Service Provider. The solution involved a muddle of multiple routing protocols, redistribution, route filtering, and coordination with your solutions provider.
Enterprise Customers regain control of their networks
In addition to the technical challenges managing the deployment of multiple protocols, the process often involved negotiation with providers on how many routes they would be willing to carry and the burden those routes would place on the service providers network. This required Enterprise customers to allow access by non-employees to manage and configure the edge routers, aka CE's (Customer Equipment)
With EIGRP OTP, Cisco delivered.  Enterprise Customers are able to regain control of their networks, no longer worrying about how many routes they are allowed to carry from site to site, route convergence times, or traffic management over multiple providers.
Service providers can get out of the IGP support business
The deployment is no less complicated for the Service Providers. In addition Service Providers having to train and support routing protocols beyond those of their core needs, carrying Enterprise Routes increases load on BGP, router resources, CE configuration issue, or continuous route flaps within their Enterprise networks can have impact on overall network stability.
Managing these convergence events is further complicated by lack off access to the source of the route flaps. Under extreme situations, the customers connection would have to be severed to protect the MPLS VPN core. No more.
Cisco wanted to simply the existing deployments.  The solution should;
Maintain EIGRP simplicity of operation.
End to End EIGRP routing protocol – no route redistribution
Minimal configuration requirements
Scalable control plane support (hub and spoke)
Support for both point-to-point, and any-to-any data paths
Must work for IPv4 and IPv6 day one
Provide transparent routing across the WAN whether it is a public or private VPN.
Support encryption across the network.
Maintain EIGRP routing metrics and establish optimal packet forwarding between Enterprise sites.

Carrier Independent WAN designs -no reliance on Service Provider functionality.
With EIGRP OTP,  the Enterprise Network is no longer extended  through the provider but instead it passes  over the provider – thereby completely eliminating route redistribution and any need for static routes; and all with one single line of configuration
 neighbor <peer address> <interface> remote <max hops> lisp-encap
At the core of the solution (no pun intended), EIGRP forms peers using normal IPv4/IPv6 unicast packets. To the provider the packets a no different than normal data moving from site to site.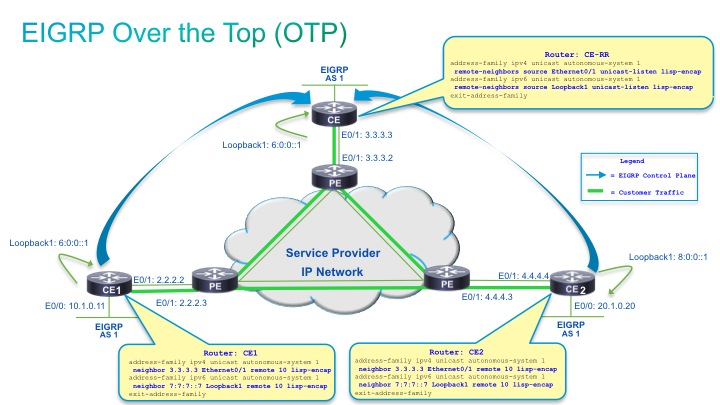 Once peers are formed, EIGRP is able to directly exchange routes between sites. As the route updates are sent as unicast IPv4/IPv6 data  directly between the EIGRP neighbors with NO requirement to configure route redistribution. Once full site to site routing knowledge is obtained, EIGRP enables LISP data encapsulation on the external, or Provider facing interface. As EIGRP is managing the control plane, LISP support from the Provider is not required, as its only used for data encapsulation. The overlay network created using EIGRP OTP, enables the customer to perform a trace route from a Spoke to a Hub location and experience end-to-end visibility.
Traffic leaving one Enterprise site heading to another site is encapsulated with the external interfaces IPv4/IPv6 addresses used as the source and destination. As the IPv4/IPv6 addresses are provided by the Service Provider, the data can flow from site to site using the Providers most efficient data path for traffic to arrive at its destination.
The uptake on this feature was amazing, and had intimidate customer demand.  As one customer put it;  "I did not think anything in routing would amaze me, but this is amazing" EIGRP OTP is shipping now for IOS XE (ASR1K Platform) and November for Classic IOS (3K/4K/6K platforms. Additional information about EIGRP and EIGRP Over-the-Top (OTP), can be found at http://www.cisco.com/go/eigrp.
Follow Donnie on Twitter at: http://www.twitter.com/diivious
Additional Information:
http://www.cisco.com/go/eigrp: Enhanced Interior Gateway Routing Protocol (EIGRP)
Read the IETF Draft: Enhanced Interior Gateway Routing Protocol
Cisco Tech Talk Series: EIGRP Routing Innovations
Packet Pushers Podcast: Listen to show 144 "Open EIGRP With Russ White + Cisco's Donnie Savage" (Podcast 42:29)
BRKRST-2336 – EIGRP Deployment in Modern Networks