Accelerating your journey to the next generation data center with FlexPod
Here at Cisco we are getting ready to head to Las Vegas next week for our annual customer event, Cisco Live 2017.  Before we get there, we have some exciting news to share with you about a new addition to our extremely successful FlexPod portfolio.
Guest Blogger: Siva Sivakumar, Senior Director, Cisco UCS Solutions
As many of you know, FlexPod is our highly acclaimed joint solution with NetApp and includes a portfolio of pre-validated, converged infrastructure solutions that combine the Cisco Unified Computing System (UCS), Cisco networking, and NetApp storage components.  FlexPod is built on technology trusted by over 8,400 customers worldwide with solutions that are optimized for the most popular infrastructure use cases, applications, and technology transition points in the industry, such as virtualized infrastructure, cloud computing, and enterprise applications.  And with continuous innovation over the past 7 years, the Flexpod portfolio has continued to help those customers simplify and modernize their IT environments in a constantly shifting technology landscape.
Today we are announcing a new member of our FlexPod family, FlexPod with SolidFire (Product name: FlexPod SF).  FlexPod SF provides all-flash, scale-out, block-based storage built using NetApp SolidFire Element OS software, Cisco Unified Computing System (Cisco UCS), and Cisco Nexus switching for a cutting-edge integrated infrastructure solution that ignites the full potential of a next-generation data center. It is designed to support multiple applications, clients, and tenants with the precise storage capacity and performance that each one needs.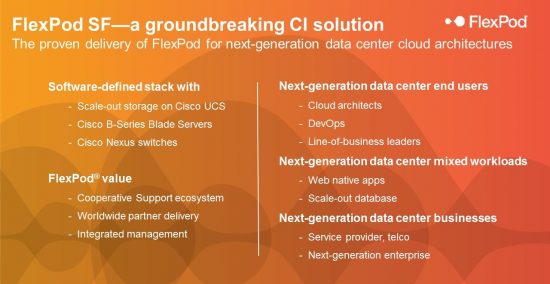 FlexPod SF will appeal to our traditional infrastructure buyers, as well as new cloud and virtualization buyers who are building next generation data centers.  It delivers all the transformative capabilities you need to deploy new applications faster, more securely, with greater agility, and more cost-efficiently.
Answering next generation data center challenges

FlexPod SF is ideal for next-generation data center workloads. It delivers web-scale infrastructure to develop, deploy, and consume modern applications at cloud speed.  FlexPod SF expands our reach into enterprise virtualization/private cloud buyers and to service providers, as well as new use cases such as DevOps, OpenStack, Docker and XaaS, based on guaranteed QoS and on-demand scale out.
FlexPod SF allows customers to:
Reliably run hundreds of applications on a single platform with guaranteed SLAs and to independently set capacity and quality-of-service at minimum, maximum, or burst performance levels across the entire infrastructure.
Seamlessly meet business demands with SolidFire software defined architecture, simplified management and scale by automating every aspect of provisioning, management and reporting with 100 percent programmable NetApp SolidFire storage and Cisco Unified Computing System (Cisco UCS) B-Series servers.
Align business expenses with business growth by reducing initial capital expenditures. FlexPod SF delivers controlled performance at lower operating costs by allowing customers to buy only as much compute and storage as they need, when they need it. NetApp SolidFire storage also enables VM deployment up to five times faster and provides granular "scale as you grow" capabilities with independent storage nodes.
With a system built on best of breed technology from Cisco and NetApp, you can deploy FlexPod SF with confidence and know that your data center is well positioned for the future.
Summary

FlexPod will continue to be a platform for innovation equipped to deal with the constantly changing technology landscape and ever-increasing demands on IT.  FlexPod SF is just the latest incarnation of the Better Together partnership between Cisco and NetApp.
In addition to today's FlexPod SF Press Announcement , at Cisco Live U.S. in Las Vegas, June 25-29, we will be unveiling the new FlexPod SF solution. Come to the NetApp booth (#2115) at Cisco Live for the unveiling celebration on June 26th at 1PM.  Check out this NetApp FlexPod SF Blog and learn more about FlexPod and FlexPod SF by attending these Cisco Live Sessions at the Mandalay Bay Convention Center.  Hope to see you in Las Vegas!