UNESCO reports that as many as one fifth of school-age children worldwide are not in school. Close to 617 million children who are attending school are not meeting the minimum proficiency guidelines in reading and mathematics. This must change!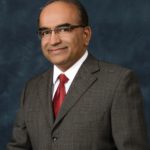 Gooru has been a Cisco Foundation grantee since 2011, thanks to their success using technology to improve student learning outcomes. To learn more about them read this post written by Dr. Prasad Ram ("Pram"), Founder, CEO of Gooru, a Cisco partner.
To learn more about nonprofit global impact partners of Cisco and the Cisco Foundation, click here.
A rapidly changing world in which artificial intelligence (AI) and automation will play increasing roles demands a workforce that is constantly learning and an education system that can prepare students for the jobs of the future. As Cisco's 2020 Global Networking Trends Report points out, "we are now entering a new, digital-driven era of globalization referred to as "Globalization 4.0." In this era, digital goods and services, enabled by digital capabilities and artificial intelligence (AI), are the leading exports." The education system must adapt to this rapidly changing landscape in order to prepare students for the job openings of the future.
Struggling to Meet Grade Level
Too many students are falling behind in STEM courses that are fundamental to the jobs of this new economy. Several years ago, about 80 percent of incoming freshman in the Leadership Public Schools (LPS), a network of four urban charter schools in Oakland, Calif., were performing below grade level in math. "If you don't pass Algebra the first time you take it you are much more likely to drop out of High School," explains Dr. Louise Bay Waters, CEO, and Superintendent of LPS, "It's the gateway course."
To make sure all its students succeed in Algebra the first time, LPS partnered with Gooru, we're an eight-year old nonprofit Edtech company based in California and India.
A GPS for Learning
Gooru developed the Learning Navigator, an app that is a GPS for learners. Navigator locates a learners' current knowledge and skills in real-time and provides personalized pathways with reroute suggestions, ensuring that students reach their learning destinations. Each learner's gaps and strengths are identified to allow for a truly differentiated and effective learning experience. The learning pathway is personalized using big data to operationalize the science of learning.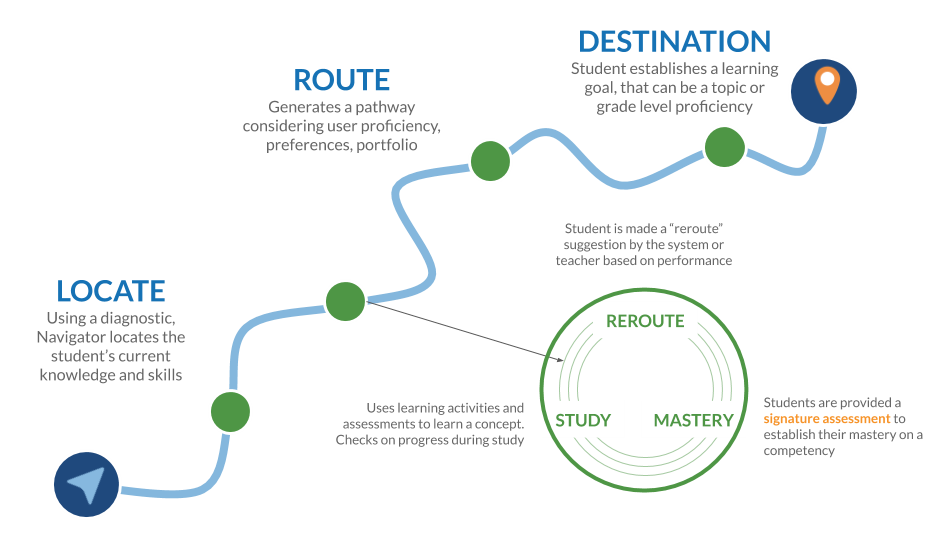 Similar to the GPS apps that work for driving directions, public transport or walking paths in any part of the world and in any language, the Learning Navigator is designed to work across disciplines, geographies, curriculum standards, and learner abilities.
Leadership Public Schools leveraged the capabilities of Navigator to create a Math Navigator course to backfill 2nd through 7th-grade foundational math skills for students who were struggling in Algebra. The course included a full spectrum of offline and online course work, assessments and instructional practices. The results were exciting. For the first time, teachers and administrators could see in real-time how each student and the entire class was progressing, and teachers could work with individual students on topics they needed to master to reach their learning destination. As a result of using Learning Navigator, student learning in math outpaced the national average by almost three times as reported in a Christensen Institute (2016) study.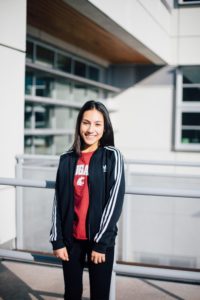 Alondra's experience using the Navigator in 9th-grade math is an example of its power to transform learning. "Alondra came to us at the 7th-grade level, she had no confidence in her ability to do math," said LPS Math teacher, Sophia Thomas. "However, she surpassed grade level using the Math Navigator."  More importantly, Alondra realized Algebra, a class she once dreaded, really wasn't so tough. "Because of the group work in the class, I found that I was able to explain concepts to other students really well," she said, "and I also realized I could teach myself new math skills."
Sharing success
LPS was excited to share its success with other districts and educators. "Gooru has enabled us to make the Math Navigator course available to a wide range of educators," said Superintendent Waters, "we could not have done that by ourselves."
Scaling Worldwide
By developing the Navigator as a learning exchange, a number of Goou's partners are able to bring the "GPS" experience to their content and for their cohorts. For example, California State University's MERLOT and SkillsCommons projects are now migrating their entire libraries to Learning Navigator to provide affordable learning solutions with OER content to low-income, minority and community college students.
With Cisco's support, Gooru is now being used by more than three million learners with implementations that include, K12 classes in the U.S., upskilling automotive workers in Morocco, military and civilian personnel training by the US Department of Defense, and  primary school education in rural India.
Dr. Prasad Ram ("Pram") is the Founder, CEO of Gooru. While at Google, he developed the prototype of a Learning Navigator – "Google Maps" for Education and Skills. In 2011, he established Gooru as a non-profit to honor the human right to education.
Previously, Pram led Google Books for Education in Mountain View and before that he was the head of Google R&D in India and led projects on Google Maps, News, Language Technologies, Search, and Ads. Pram received the Founders' Award at Google for his work on Google Ads. Prior to joining Google, Pram led engineering at Yahoo! and was a scientist at Xerox Research.
Pram is a Council Member at California Council of Science and Technology and a Board member at Leadership Public Schools. Pram has a Ph.D. in Computer Science from UCLA, and a B.Tech. in Computer Science from Indian Institute of Technology-Bombay, India.