Picture a shiny new switch, freshly connected to your network. How many interfaces will you use to monitor that switch over its lifetime? Consider all we do each day: checking software versions for compliance, viewing alerts and telemetry data, running diagnostics, requesting support, signing up for courses through Cisco Learning Network, etc. It would be far simpler with just one interface for all information and services used over the lifecycle journey. That has not existed—until now.
Merging many portals into one
In late 2019, Cisco's Customer Experience (CX) team invited us, Cisco IT, to be "Customer Zero" for the Cisco CX Portal. This newly developed portal, built on collaborative intelligence, brings together all information and services about a product into one view, a single pane of glass.
We started with campus networking devices (including the Catalyst 9000 switches) enrolled in Cisco DNA Center, which we use for zero-touch provisioning and automated software updates. (Story here.) CX Portal shows device information and alerts, allows us (the customer) to request Cisco services, and even has a button to sign up for training through the Cisco Learning Network. The team that operates Cisco DNA Center particularly likes seeing all devices affected by a field notice or bug report, which can speed up remediation. Another favorite feature is the ability to check TAC case status, such as service requests and return merchandise authorizations (RMAs), without having to log into the TAC portal.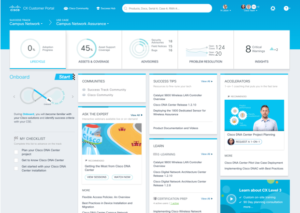 Deployment: a virtual machine and device software
Deploying CX Portal was straightforward. We provisioned one virtual machine for our Cisco DNA Centers (both cluster and single node configurations): three for production, one for pre-production testing, and one for the lab. Then, we installed Cisco Collector software in the DNA Center network servers. To speed up installation in remote regions, like Singapore, we discovered we could download an Open Virtual Application (OVA) file ahead of time, saving 1-2 hours per switch.
As Customer Zero, we're influencing product development
Cisco IT is one of a handful of customers trying out the CX Portal in a production environment. As Customer Zero, we're reporting bugs and requesting new features for large enterprises like ours. Some of our suggestions will be included in a version available to customers in early 2020:
Consolidating device data from multiple Cisco DNA Center clusters in one interface.
Listing devices by site.
Listing devices not currently covered by a services contract.
Filtering compliance issues by the type of standard. Our company doesn't need to know about compliance with Health Insurance Portability and Accountability Act (HIPAA) requirements, for instance.
Speeding up device onboarding. Based on our input, the business unit accelerated setup from 3-4 hours to less than one hour, and it keeps getting faster.
Reducing overhead by changing the data-collection method.
Next up: switches, routers, and security devices
Over the next year, the CX portal plans to add support for Cisco security (Advanced Malware Protection) and collaboration products.
# # #
Comments? Ideas for additional info to include in Cisco CX Portal? Type into the box below.