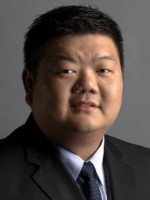 Kenny Chen
We're always looking for ways to improve the experience at Cisco tradeshows and other events. There's free Wi-Fi. And attendees can download the Cisco Events app (powered by GenieConnect by Lanyon) for information about all global events. This includes conference agendas, surveys, interactive maps, a network connection, speaker and exhibitor listings, and more.
We've just taken another big step, with indoor wayfinding. The debut was at a Cisco sales event in London, held November 12-14, 2014. Attendees could see their current location on the app's interactive event map, making it easier to find their way around. They also learned about upcoming sessions, games, and other news from banner ads that the events team swapped out throughout the day, without any involvement from the IT team.
The solution includes Cisco Enterprise Mobility Services Platform (EMSP), Cisco Aironet Access Point Modules for Wireless Security, and Cisco Mobility Services Engine.
You Are Here
Say you were at the London event and wanted to find the cafeteria. You'd just open the Cisco Events app and click the Locate Me button. Within seconds, you'd see your location as a blue dot on the map, within 5 meters.
Plotting location this fast is a breakthrough. Early indoor GPS solutions calculated location based on a probe that mobile devices emit to look for new wireless networks. The problem is that these probes can be minutes apart. So by the time the access point detects your location, you could be hundreds of feet away.
We increased location accuracy by using Cisco Aironet Access Point Modules for Wireless Security. These modules capture a signal whenever a device sends or receives data instead of waiting till the device sends a probe. The Cisco Mobility Services Engine (MSE) 8.0 notes all of the access points that report traffic from the device, and uses this information to calculate location. Then Cisco EMSP displays the location on the event map as a blue dot. The upshot is that attendees have an easier time finding their way to breakout sessions or the cafeteria. It's a better experience.
Up-to-Date Communications About Event Changes
The same wireless solution improved communications with attendees during the event. At prior tradeshows we announced schedule and room changes by pushing notifications to the mobile app. The trouble was that people who turned off push notifications didn't learn about the changes.
Banners are a better way to communicate in mobile apps because they're hard to ignore. At the London show, event organizers updated the mobile app banner whenever they wanted with an easy-to-use application called Cisco EMSP Studio. At different times of day, the banner advertised the next keynote speaker or workshop or promoted a game. Banners can also notify attendees about room or schedule changes, even if they turn off push notifications.
We've updated banners at previous shows, but we did it by pushing an update to attendees. To see the new banner they had to update the app. With Cisco EMSP, the newest banner appears automatically whenever an attendee opens the app.
At future Cisco events, we'll use EMSP to push different banners depending on attendees' location. Near the demo area they might see a list of vendors. Near the conference hall they'll see the time and topic of the next keynote. We're also thinking about letting vendors sponsor banner ads that appear when people are in a certain location, such as the sign-in desk or demo hall. Behind the scenes, Cisco Mobile Services Engine with Connected Mobile Experience (CMX) feeds the device's location to Cisco EMSP. Then EMSP decides which content to show based on the rules we've set up.
Simple Infrastructure and Setup
Setting up location services at the London event took three steps. First, we worked with GenieConnect by Lanyon to integrate the mobile app with Cisco EMSP, using our APIs. Second, we entered event location information into EMSP.  Third, we deployed the infrastructure. That included the access points, Cisco Aironet Access Point Modules for Wireless Security, and Cisco Mobility Services Engine with the Connected Mobile Experiences (CMX) license.
Although we used Cisco EMSP at a tradeshow, the same solution also works with mobile apps designed for other indoor venues, such as shopping malls and hospitals.
More Information: