I joined Cisco five years ago as a contractor. And I've proudly been part of the Cisco on Cisco team for the past 2 years. This was my first Cisco Live and my first time delivering a Cisco on Cisco session at an event.  And although I hadn't been to an event before, I have seen first hand the positive impact and business value Cisco IT makes on our customers and partners by sharing our unique experiences of how we use our own products and services inside our enterprise. And while I was excited and nervous, I had no idea what to expect. And what I discovered was the energy,  passion and intelligence I experience every day in the office was amplified 100% at Cisco Live. I got on the plane home (now North Carolina) feeling bitten by the Cisco Live bug and wanting more! But as I reflect on the weeks events I can say I didn't leave empty handed and I'm not talking about the cool backpack full of goodies but more about the things I learned as a participant and observer.  This isn't everything I learned from the event but the most memorable for sure.
Cisco knows how to throw a party
AT&T park, crazy birthday hats, Lenny Kravitz, cheesy garlic fries and all the beer and wine you can drink! Are you kidding me?? Cisco proved it's not just good at being the #1 IT Company but really knows how to celebrate (25th anniversary) in style! The World of Solutions was amazing and a great opportunity to see our partners showcase the latest and greatest technology.
Don't mess with bus drivers in San Francisco
On my way over to Moscone center with a few colleagues we ran into Carlos Dominguez, Cisco's Technology Evangalist. And as expected Carlos engaged us in friendly conversation as we walked. But as the light in the crosswalk turned red, and I mean RED with a big 0 for "you have no more time, don't cross" Carlos and my friends kept walking. Right in front of a Muni bus! Needless to say we all survived but the bus driver stopped in front of us and began yelling at Carlos for what seemed like an eternity. But Carlos maintained his composure and eventually the bus moved out of our way.
We have the BEST Customers!
My favorite IT Management session was a panel discussion with a few of our customers called Leading in a Dynamic Environment moderated by Guillermo Diaz, SVP, IT Cisco
Dr. Gerry McCartney, System CIO and Vice President of IT, Purdue University;
Maria Teresa Lensing, VP and CTO, TN, AT&T;
Eric Latalladi, Vice President, Engineering, Met Life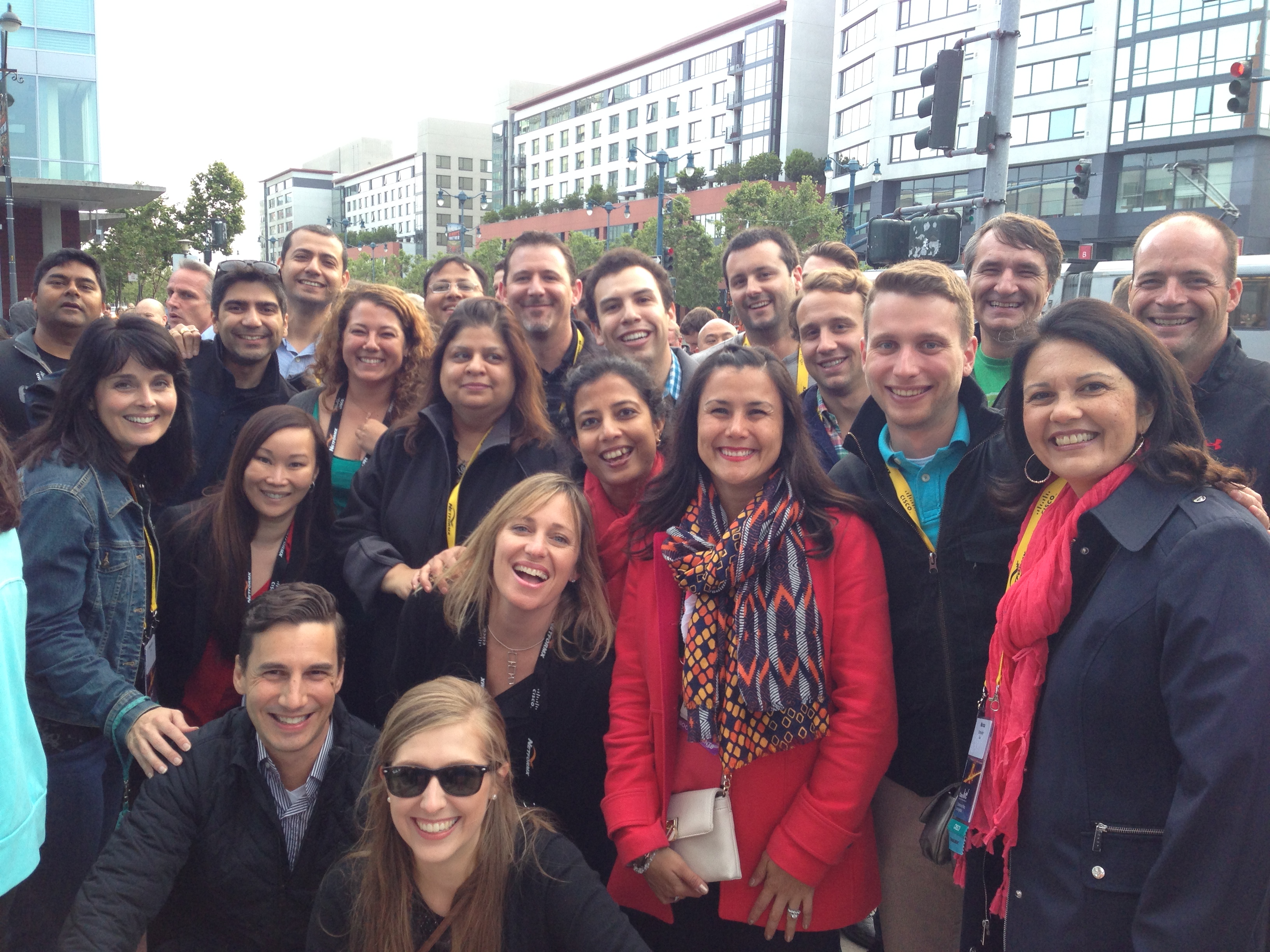 ACI is HOT!
Being that my team produces content authored by IT experts, we were already entrenched in ACI use cases and stories when Cisco Live rolled around in May. But it was evident that ACI is top of mind for our Customers and they are looking to Cisco to provide thought leadership and support of ACI solutions. During Q&A in the IT Management session with John Chambers one of our customers asked "What tools and solutions is Cisco going to provide to help deliver ACI?" John asked Guillermo to aggregate content with our tools and resources. Check it out http://www.slideshare.net/ciscoit.
Collaboration is alive! 

In addition to the great key note from Rowan Trollope and some exciting new collaboration products Cisco recently introduced I enjoyed taking 40 of our most dedicated Customers and Partners down our IT Collaboration journey for 90 minutes. And I say dedicated because my session was scheduled for Thursday afternoon at 2:30pm when most everyone else is already headed home. But not only did we have a full room, they were wide awake (always a plus) and totally engaged.
The session started with some musical inspiration from the movie Rocky – eye of the tiger. We had a good interactive discussion in the room and via twitter about the importance of video and how to drive adoption of video and change to a video culture. I think the consensus in the room was that unless your using video or meeting in person a corporation runs the risk of messages not being received or delivered effectively. For a large company like Cisco that is fatal. Driving adoption of new technologies like video requires top down and bottom up support but it can be contagious meaning if you lead by example others will follow.
If you get a chance to attend a Cisco Live event I highly recommend it. The next one is in Cancun, Mexico! I hope to see you there.