Cisco Blogs / Nick Adamo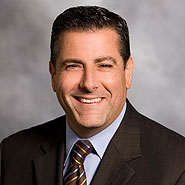 Nick Adamo
Senior Vice President
Global Service Provider Market Segment
Nick Adamo is Senior Vice President of the Global Service Provider segment, an organization that oversees global sales, service delivery, and development for Cisco's top service provider customers. Global Service Provider is responsible for $12.4 billion in annual sales and nearly 3000 employees.
Adamo brings a deep working knowledge of Cisco's technology architectures along with experience from both Enterprise and Service Provider segments. He serves as the executive sponsor for some of Cisco's top customers and partners, fostering strategic relationships, guiding business and technology discussions, and identifying new opportunities for shared success.
Before his current position, Adamo was Senior Vice President for the Americas region, where he managed more than 6500 employees in the United States, Canada and Latin America. Previously he was Senior Vice President for the newly formed Global Segments & Architecture team where he played a critical role in defining and leading Cisco's strategy for aligning company resources to deliver unique business and technology solutions. Before that, Adamo was Senior Vice President for the service provider business globally, where his team achieved significant segment growth in the rapidly evolving telecommunications industry. Previous to this, he headed the U.S. Service Provider Sales team. Previously, he was Vice President of the U.S. incumbent local exchange carrier market responsible for Cisco strategy and business relationships with these strategic customers. Prior to that Adamo was Vice President of the Northeast Area, responsible for the enterprise sales organization spanning New York, New England, and New Jersey, and Operations Director of the Global Finance Operation in New York City.
Before joining Cisco in 1995 as an account executive supporting Merrill Lynch, Adamo spent 11 years with IBM in sales and sales management assignments in the finance industry.
Adamo is Cisco's Board representative to the Alliance for Telecommunications Industry Solutions and currently serves as Secretary. ATIS is a United States-based organization that is committed to rapidly developing and promoting technical and operations standards for the communications and related IT industry. Adamo also is a member of the Board of Directors for ThruPoint, a leading provider of IT consulting services serving Fortune 500 firms around the globe. He was recognized by Crain's New York Business Magazine in 2001 as one of New York City's 100 most influential IT executives.
Complementing his professional affiliations, Adamo serves on the Board of Inwood House, a not-for-profit organization in the New York City Area dedicated to helping at-risk teens take charge of their lives and become healthy and self-reliant adults.
Adamo holds a bachelor of science degree in computer engineering from Columbia University.